Egypt
Law Expert: Who oppose Mursi's decision elements of the former regime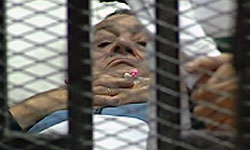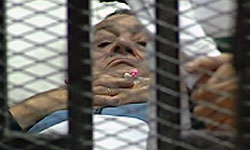 A prominent Egyptian law expert defended President Mohammad Mursi's constitutional declaration, saying those who oppose Mursi's decision are elements of the former regime who feel threatened by a retrial of the country's ex-dictator, Hosni Mubarak.
"Those who see their interests endangered in case of holding a new trial for Hosni Mubarak try to take people to the streets (to voice opposition to Mursi's decision)," Servat Badavi told FNA on Monday.
He described Mursi's decision praiseworthy, and said, "The conditions in Egypt need such decisions and anyone who is opposed to this decision is actually in pursuit of sedition (against the government) and tumult among the people."
Mursi's constitutional declaration which allows him to issue decisions and laws unchallenged on a temporary basis has triggered protests by his opponents, and set him on course for a showdown with Egypt's judges.
A sit-in by opponents of Mursi is being held in the iconic Tahrir Square which was at the heart of last's year revolution.
The constitutional declaration states that Mursi can issue "any decision or measure to protect the revolution," which are final and not subject to appeal.
In a move to assuage his critics, Mursi was to meet the Supreme Judicial Council late in the afternoon after his Justice Minister Ahmed Mekki held preliminary talks with the council, Presidential Spokesman Yasser Ali said.
On Sunday, Mursi stressed the "temporary nature" of the measures, valid only until a new constitution is adopted and elections held, and which "are not meant to concentrate power" but devolve it to a democratically-elected parliament.
The measures were also "deemed necessary in order to hold accountable those responsible for the corruption as well as the other crimes during the previous regime and during the transitional period."
Hosni Mubarak was sentenced to life, along with his interior minister, over the killing of protesters in the uprising last year that eventually ousted him, in which some 850 activists died.
Six security chiefs were acquitted in the same case, sparking nationwide outrage.
New investigations have been ordered into the deaths, and Egypt's new prosecutor general Talaat Ibrahim Abdallah said "revolutionary courts" would be set up.
The presidency also on Sunday stressed its commitment to engaging all political forces in dialogue "to reach a national consensus on the constitution, which will be the cornerstone of Egypt's modern institutions".