Imam Ali Khamenei
Iran
Leaders of Ummah
Middle East
Leader Appoints New Commanders to Top Military Posts
Supreme Leader of the Islamic Ummah and Oppressed Imam Ayatollah Seyed Ali Khamenei in two separate decrees on Tuesday appointed a new deputy chief of staff of the Iranian Armed Forces and a new commander for the Basij (volunteer) forces.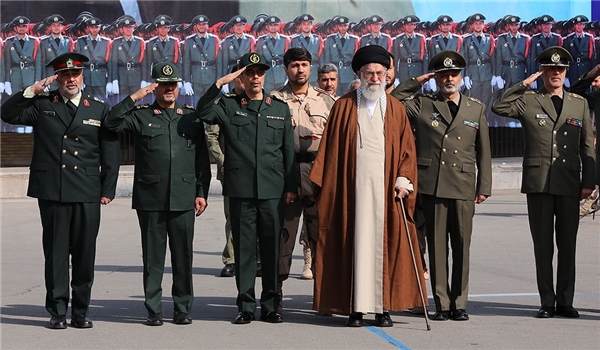 Imam Ayatollah Khamenei, who is also Commander-in-Chief of Iran's Armed Forces, appointed Brigadier General Mohammad Reza Ashtiani as the new deputy chief of staff of the Iranian Armed Forces, asking him to endeavor to enhance the Armed Forces' defense and security capabilities by using the capacities of elites and experts.
He also praised former Deputy Chief of Staff of the Iranian Armed Forces Major General Ataollah Salehi for his efforts.
In a separate degree, Brigadier General Gholamreza Soleimani was appointed by Ayatollah Khamenei as the commander of Basij forces.
He also lauded the former Basij Comamnder, Brigadier General Gholamhossein Gheibparvar, for his efforts during his tenure.
Basij was established in Iran in 1979 by order of Ayatollah Khomeini, the late founder of the Iranian Revolution. The organization originally consisted of civilian volunteers who were urged by Imam Khomeini to fight in the Iran–Iraq War.
It was an independent organization from inception until 17 February 1981, when it was officially incorporated into the Islamic Revolution Guards Corps (IRGC) organization structure by the Iranian parliament.