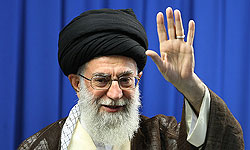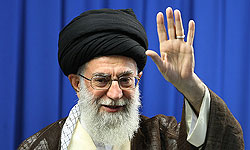 Supreme Leader of the Islamic Revolution Ayatollah Seyed Ali Khamenei called on the regional countries to turn the Persian Gulf into "a safe and prosperous region and a place for cooperation".
Ayatollah Khamenei said enemies are trying to prevent such unity among regional countries.
The Leader made the remarks in a meeting with Emir of Qatar Sheikh Hamad bin Khalifa al-Thani in Tehran on Thursday, press tv reported.
The Leader also urged further cooperation among the Islamic countries, saying "All countries in the region should make efforts to prevent the materialization of foreign desires."
Ayatollah Khamenei also blamed certain Arab states for their inactions against Israeli wars on Lebanon in 2006 and on Gaza Strip in 2009.
"Unfortunately some Arab states have not adopted a good stance (over the wars)," the Leader told the Qatari Emir.
Ayatollah Khamenei also called for the expansion of economic and regional ties between the two Persian Gulf littoral states.
The Emir of Qatar, who is on an official visit to the Iranian capital for talks with high-ranking officials, praised the stance taken by the Islamic Republic of Iran regarding the Palestinian issue.
Al-Thani also urged the regional countries to make efforts to maintain peace and security in the region.
He added that the Islamic states should resist against the plots hatched by outsiders.
Earlier, al-Thani discussed a range of regional and international issues with Iran's President Mahmoud Ahmadinejad.