Iran
Leader fo Islamic Ummah and Oppressed S. Khamanei urges firm, clear stances by administration on world issues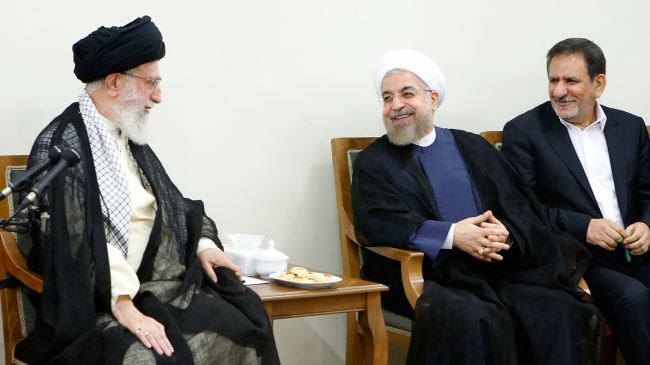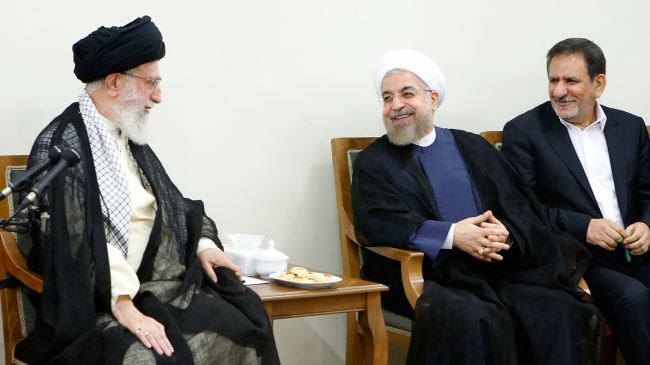 Leader of the Islamic Revolution Ayatollah Seyyed Ali Khamenei has called on the President Hassan Rouhani's administration to take clear and firm stances on regional and international issues.
"Taking a clear and resolute stance vis-à-vis such issues as Palestine, the Zionist regime, Gaza, Syria, Iraq, Takfiris and the US acts of interference is in the interest of the Islamic establishment and does not contravene the language of diplomacy and negotiations," Ayatollah Khamenei said in an address to President Rouhani and his administration members on Wednesday.
"Adoption of frank and transparent stances on these issues will safeguard the foundation of the Islamic establishment and the strategic position of the establishment among nations," the Leader added.
Ayatollah Khamenei also called on Rouhani's administration to boost production by relying on domestic potentials, saying, "The key to economic prosperity which has been emphasized by the esteemed president, is the issue of production. Production has to be boosted using numerous domestic potentials so that economic prosperity and enhanced non-oil exports would be achieved."
The Leader said the government's economic policies are required to be in compliance with the principles of "Resistance Economy."
In a decree issued on February 19, Ayatollah Khamenei outlined the general policies of Iran's Resistance Economy.
As part of the program, the government must take action in promoting "knowledge-based economy and domestic production, especially in strategic products and services, and the consequent reduction of dependence on imports."
The decree also encourages greater privatization and increased exports of goods and services through legal and administrative reform as well as foreign investment for export purposes.