Iran
Leader Imam Khamenei: Iran, N. Korea Have Common Enemies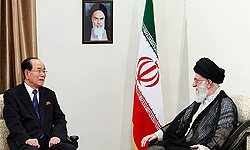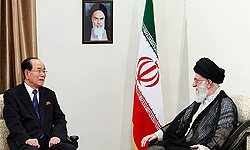 The Leader of Islamic Ummah and Oppressed People Imam Seyed Ali Khamenei in a meeting with President of North Korea's Supreme People's Assembly (SPA) Presidium Kim Yong Nam underlined that Tehran and Pyongyang have common enemies due to their resistance against the arrogant powers.
"The Islamic Republic of Iran and North Korea have common enemies since the arrogant powers cannot bear independent governments," Leader said during the meeting in Tehran on Saturday.
He also stressed that there are abundant grounds for the expansion of relations and increasing cooperation between Iran and North Korea.
Kim Yong Nam and his accompanying delegation arrived in Tehran earlier this week to attend the 16th Non-Aligned Movement (NAM) summit on August 30-31.
Earlier in the day, President Ahmadinejad received Kim Yong Nam at his office in Central Tehran, where the two sides discussed an array of issues, specially mutual cooperation.
After the meeting, the two countries endorsed a Memorandum of Understanding (MoU) on cooperation in scientific and academic grounds.
The MoU was signed by Iranian Science, Research and Technology Minister Farhad Daneshjou and Korean Foreign Minister Pak Ui Chun.
The document required mutual cooperation in various scientific and technological grounds between Iran and North Korea and is expected to cause a leap in the scientific ties between the two Asian nations.