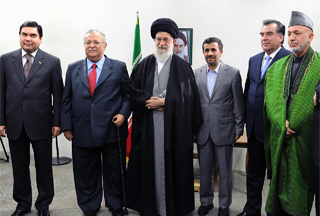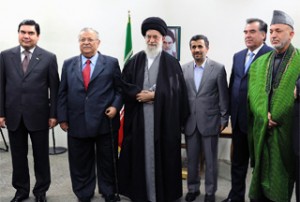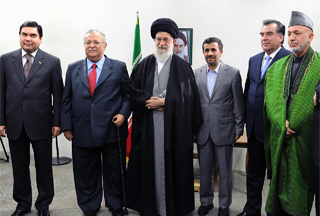 Leader of the Islamic Ummah and Opressed People Imam Seyyed Ali Khamenei says the Iranian New Year, Nowruz, is a fitting occasion to bring regional nations and governments closer together.
"This (Nowruz) event and its continuity can serve as an appropriate ground for bringing governments and nations in the region closer together," said Imam Ali Khamenei in a meeting with regional leaders and representatives taking part in the first International Nowruz Celebrations in Tehran on Saturday.
The leader emphasized that the global recognition of Nowruz can in fact serve as sort of a "cultural gift and conveyance from nations that mark Nowruz to other nations, particularly the West."
Imam Ali Khamenei reiterated that at a time "when, unfortunately, the cultural current remains from West to East," the international recognition of Nowruz provides the opportunity to "transfer and export the high values of eastern culture to Western nations. "
The UN General Assembly recognized March 21st as the International Day of Nowruz earlier in February, calling on world countries to draw on the holiday's rich history to promote peace and goodwill.
The Leader also touched upon the efforts by certain world powers to cause crisis among regional nations and added, "The fact is that the Interests of regional nations are not in contradiction but indeed complement each other."
He said that regional nations can establish a high value cultural complex, adding, "The Islamic Republic of Iran welcomes bolstering relations and cooperation among regional and neighboring countries which subscribe to a common culture."
He added that Iran honors the progress of every neighboring country.
Imam Ali Khamenei said Nowruz is a leading spiritual, national and international occasion and a symbol of innovation, freshness and consolidation of friendship and kindness between friends and relatives.
Nowruz, meaning "a new day," is an ancient Iranian tradition that has been celebrated around the globe for nearly three millenniums. It honors the first day of spring as a new year and a brand new beginning on a merry, peaceful note. It is celebrated on the day of the vernal equinox, which normally lands on March 21.