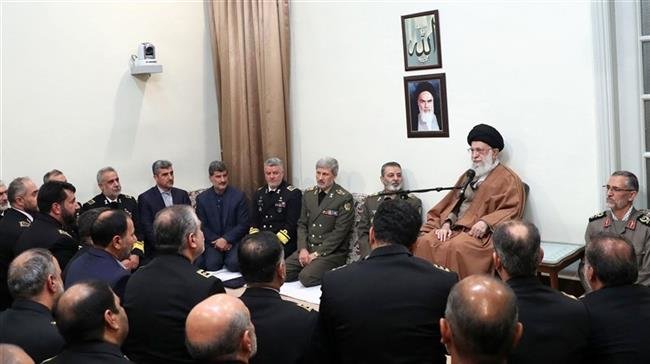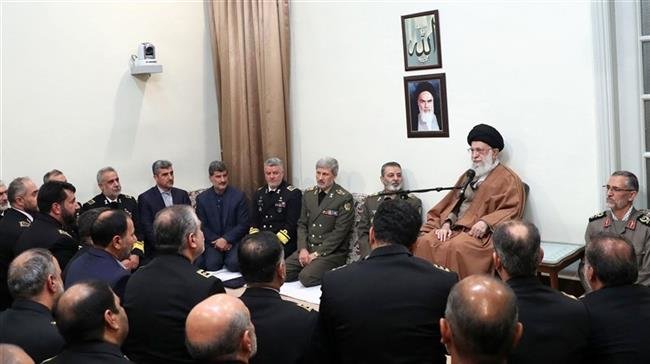 Leader of Islamic Ummah and Oppressed Imam Ayatollah Khamenei says Iran is not seeking war with any country, but the Armed Forces should develop their capabilities to deter any potential aggressor.
Addressing the Navy's commanders and officials on the occasion of the National Navy Day in Tehran on Wednesday, Ayatollah Khamenei said the Islamic Republic faced many enemies and competitors.
"That reality – alongside the need for the country to address the areas where it is lagging behind – necessitates additional and extraordinary diligence in all spheres, including naval power," the Leader said.
Ayatollah Khamenei further said Iran does not intend to start war against any country, but the Armed Forces should "boost their preparedness as much as possible so that enemies of Iran would not even dare threaten this great nation."
Ayatollah Khamenei said the Armed Forces, especially the Navy, had made "great and astounding" progress since the 1979 Islamic Revolution.
"The current generation of the naval forces deeply believes in its own creativity and capabilities," the Leader noted.
Iran's Navy commander says the force is to join three destroyers to its northern and southern armadas in a matter of four months.
Ayatollah Khamenei hailed the Armed Forces' increased readiness in the face of threats, saying this has filled the enemies with fear and prevented acts of aggression against the country.
Prior to the Leader's remarks, Navy Commander Rear Admiral Hossein Khanzadi addressed the gathering, reading out a report on the force's most recent advancements.
The commander pointed to the preparation for operation of Sahand Destroyer, the overhaul of Damavand Destroyer, and indigenous manufacturing of Fateh Submarine.