Imam Ali Khamenei
Iraq
Leaders of Ummah
Middle East
Leader of Islamic Ummah and Oppressed Imam Ayatollah Khamenei urges all necessary steps to solve problems in Iran's flood-hit areas
Leader of the Islamic Ummah and Oppressed Imam Ayatollah Seyyed Ali Khamenei calls on Iranian officials and institutions to take all necessary measures to tackle the problems gripping people in the country's flood-stricken areas and relieve their sufferings.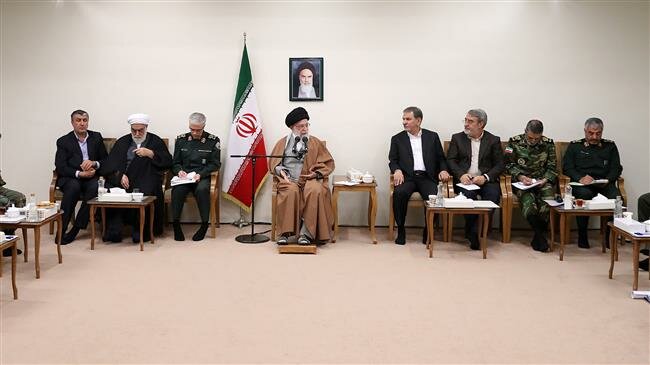 Ayatollah Khamenei made the remarks in an address to a special meeting in Tehran on Tuesday over the relief and rescue operations underway in the Iranian provinces hit by flash floods.
Among the participants in the meeting were Iran's First Vice President Es'haq Jahangiri, a number of cabinet ministers, Chairman of the Chiefs of Staff of the Iranian Armed Forces Major General Mohammad Baqeri, senior commanders of the Islamic Revolution Guards Corps and Army, Basij volunteer forces and heads of the country's relief organizations.
The Leader further hailed the ongoing relief efforts, coordination among different bodies, the presence of high-ranking military officials on the scene as well as people's enthusiasm for helping their flood-affected compatriots.
However, Ayatollah Khamenei added, "all the necessary decisions and measures should be seriously pursued and should continue until the settlement of people's problems and the alleviation of the sufferings of those affected."
The Leader also stressed the need for making plans and adopting pre-emptive measures to minimize the "long-term and effective" material and psychological damage that such natural disasters could cause.
Ayatollah Khamenei called for adopting a number of precautionary environmental measures, including the dredging of rivers and dams, to curb the adverse effects of flooding.
"This incident should be seen as a lesson so that all different aspects will be taken into consideration in various future projects such as the construction of dams, roads and railways as well as urban development," the Leader said.
At least 57 people have been killed in the past two weeks in floods and extreme weather conditions in various Iranian provinces, from north to south, following the heaviest downpours in the country in at least a decade.
Iran has announced a state of emergency in several provinces threatened by flooding and forced tens of thousands of people to evacuate their homes in the affected provinces, where dozens of villages have been evacuated already.