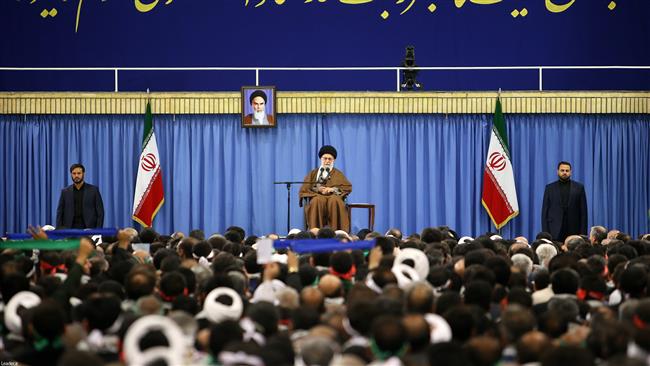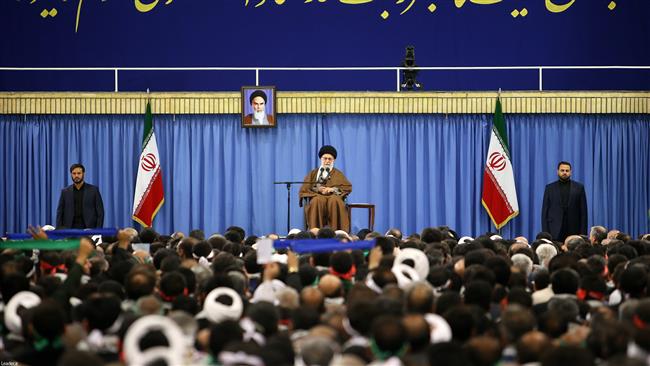 Leader of the Islamic Ummah and Oppressed Ayatollah Seyyed Ali Khamenei says Iran is not worried by the results of the US presidential election, but it is equally prepared to face any eventuality. 
"Unlike some of those in the world who have either been mourning or celebrating the results of the American elections, we are neither mourning nor celebrating and the results make no difference to us," he said in Tehran on Wednesday.
"We have no worries and by the grace of God, we are ready to face any possible eventuality," the Leader told a group of visitors from the central Iranian city of Isfahan.
Ayatollah Khamenei said both parties in the US elections follow the hostile policy which Washington has adopted against the Islamic Republic since 1979.
"We have no judgment about this election because America is the same America and each of the two parties which have been at work over the past 37 years has done no good to us, rather it is their evil which has always targeted the Iranian nation."
Ayatollah Khamenei said the elections, which marked an unflattering portrayal of the US situation including poverty and many other problems by President-elect Donald Trump, revealed the realities of the American society.
"The person who was elected as the US president said during the election campaign that the American money spent on wars in the past few years could have rebuilt America twice if it had been used inside the county," the Leader said.
"America in recent years has spent its tax money on despicable wars which have resulted in the massacre of tens of thousands of civilians and destruction of infrastructure in Afghanistan, Iraq, Libya, Syria and Yemen," Ayatollah Khamenei added.
The Leader called on Iranian "political and non-political elite" to raise their discernment and wake up to the realities pointed out during the US presidential election campaign.
"The meaning of discernment is that you realize who you are faced with and what your adversary thinks about you and that if you shut your eyes, you will definitely be struck.
"Fortunately, the ordinary people have this discernment but what is surprising is that some of the elite rely on their illusions and lack this discernment," the Leader said, apparently criticizing some state officials.
The only way to overcome problems and make up for shortcomings and achieve greatness, prosperity as well as material and spiritual progress is to remain true to the principles of the Islamic Revolution, Ayatollah Khamenei said.
The Leader called on state officials to focus on the domestic strength of the country and take serious measures for the betterment of its economy.
"The enemy has zeroed in on the economy because it thinks economy is our weak point," Ayatollah Khamenei, reiterating his call for the country to develop an "economy of resistance."