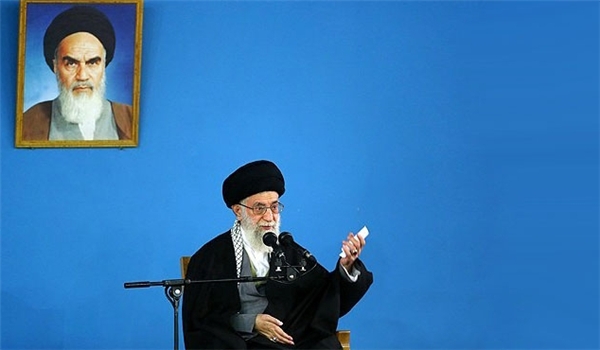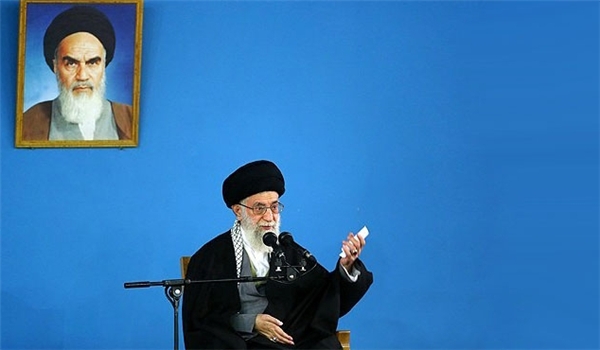 The Supreme Leader of the Islamic Revolution, Imam Sayyed Ali Khamenei, stressed that Tehran will not accept any conditions set by the west against the national interests and aspirations of the Islamic Republic.
Imam KhameneiIn an address with thousands of people from Qom on Wednesday, Imam Khamenei urged the Iranians to rely on the nation and internal forces rather than relying on oil revenues.
"Sanctions have created problems for the country but if the enemy sets a condition for the removal of them in return [for Iran] to back down on basic… issues, including Islam, independence or scientific progress, definitely the [national] pride of no official will accept that," the leader said.
The country's officials and government shouldn't pin hope on the aliens and they should know that even one step of retreat will lead to the enemy's advance; therefore, we should have fundamental thoughts, rely on the nation and internal forces, and act in a way that even if the enemy doesn't lift the sanctions, people's progress, flourishing and welfare won't be hurt," his eminence underscored.
"You should take the weapon of sanctions from the enemy because if you pin hope on the enemy, the sanctions will remain, as today the Americans say flagrantly that even if Iran withdraws in the nuclear issue, the sanctions will not be lifted all together and at once," Imam Khamenei said.
"I am not opposed to negotiations, but I believe that we should pin hope on really promising points and not imaginations," he added.