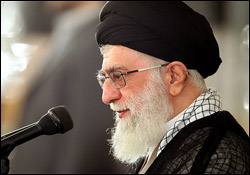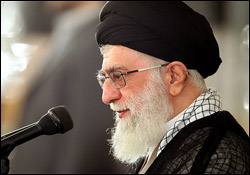 Leader of the Islamic Ummah and Oppressed People Ayatollah Seyyed Ali Khamenei has called for an enthusiastic participation in demonstrations marking International Quds Day.
During a meeting with hundreds of veterans from the Iraq-Iran war on Wednesday, Ayatollah Khamenei said that a high turnout on Quds Day would give a crushing response to the enemies of Islam and Palestinians.
The Leader described the occupation of the Palestinian territories and the formation of the Zionist Israeli regime as the root of evil in the Middle East.
"Had this conspiracy not taken place, these wars, divisions, and interventions by colonialists and oppressors would not have occurred," the Leader stated.
Ayatollah Khamenei urged Muslims to counter attempts made by Israel and its allies to push the issue of Palestine into oblivion, describing the Islamic Revolution in Iran as a major "historical obstacle" against the enemy plot to smother the Palestinian cause.
The Leader condemned enemy schemes to create sectarian divisions among Muslims as part of the effort to avert attention from the West's silence and support for the decades-long occupation of the Palestinian territories.
Ayatollah Khamenei noted that liberating Palestine from the grip of Israel and its allies is a religious duty for all Muslims across the world.
In August 1979, late founder of the Islamic Republic Grand Ayatollah Rouhollah Khomeini declared the last Friday of the Muslim holy month of Ramadan as International Quds Day, and called on Muslims across the world to mark the annual occasion by holding street rallies.
Millions of people around the world pour into the streets on this day in a show of support for the people of Palestine, and to call for an end to Israeli occupation of the Palestinian territories.