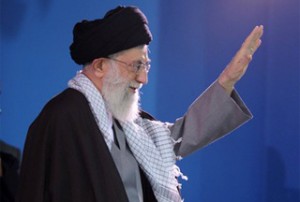 The Leader of Ummah Imam Ali Khamenei urges continued huge turnout in rallies on the anniversary of the Islamic Revolution, reiterating today that Iran's enemies will not be able to harm the Revolution and the nation even if they all unite.
Speaking at a gathering of officials from the Islamic Development Organization, ahead of the anniversary celebrations of the 1978 Revolution, Imam Ali Khamenei stressed that the Revolution will resist all plots as long as it relies on people's faith and support.
The Iranian Leader called on the elite to adopt transparent positions with respect to the enemies and their plots in the country, adding that the presence of millions of Iranians at the celebration of the 31st anniversary of the Islamic Revolution will foil enemies' plots.
The Leader was referring to the annual celebrations marking the victory of the Islamic Revolution that ended the Iranian monarchy in 1979 and led to the establishment of an Islamic Republic in Iran.
The "ten days of Fajr (dawn)," as it is known in the country, refers to the anniversary of the period of time between the arrival of the late Imam Khomeini to Iran from exile, Feb. 1, 1978, and the day in which the revolution succeeded, 10 days later.
The Leader also referred to the December 27 riots in some Tehran streets, during which protesters damaged public property and clashed with security forces, taking advantage of a nation-wide focus on Ashura mourning ceremonies, marking the martyrdom anniversary of Imam Hussein, the third apostle of the Shia followers of Islam.
Imam Ali Khamenei described the overwhelming response by millions of Iranian demonstrators who took to the streets on December 30 to condemning the desecration of the Ashura ceremonies, as extraordinary and a landmark date in the history of the Revolution.