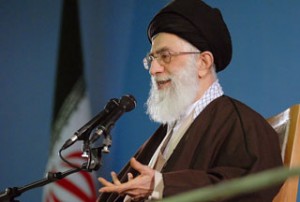 The Leader of the Islamic Revolution warns that hostile countries are trying to create a conflict-ridden atmosphere in Iran with their 'divisive policies'.
"Attempts to create an atmosphere of distrust and disunity in the country will benefit no one," said Ayatollah Seyyed Ali Khamenei in an address to Basij forces on Wednesday.
"Therefore, those who take their cue from the enemy and try to confront the principles of the Islamic Republic and the constitution should know that their efforts will [fail]," he added.
The Leader, however, cautioned that opposition figures, who question the outcome of the June 12 elections, should not be branded as monafeq (seditionist).
Monafeq is usually referred to the members of the terrorist Mujahedin Khalq Organization (MKO) which has masterminded a torrent of terrorist operations inside Iran and Iraq over the past three decades.
"Not all people are seditionists or against the Rule of the Just Jurisprudent (Velayat-e Faqih)," said Ayatollah Khamenei.
Ayatollah Khamenei stressed the importance of "national vigilance" in order to confront the soft war waged by the enemy.
"The enemy has put soft war on its agenda concerning the fact that the arrogance faced failure in confronting the Islamic establishment during the first decade after the Islamic Revolution," said Ayatollah Khamenei
"Presently the fight against the enemy's soft war is our main priority," added the Leader.
The Leader went on to elaborate on the enemy's soft war and said, "The enemy tries to use a mixture of cultural means and advanced communication equipment to spread lies and rumors and cause doubt and difference among the people."
As an example, the Leader pointed to the post-election crisis in June, saying, "The enemy sought to drive a wedge between the people and the government but, thanks to the vigilance and alertness of the nation, failed to achieve its goal."