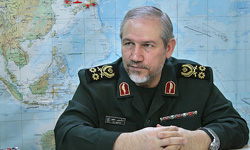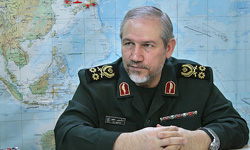 A top military aide to the Supreme Leader of the Islamic Ummah and Opressed People called on the Iranian Armed Forces to keep vigilant against potential US-Israeli military aggressions against Iran, and stressed that the country's forces should be able to hit enemy targets outside the region.
"Wisdom tells that Iran's Armed Forces should prepare and strengthen themselves for all-out defense and retaliatory attacks on the enemies even outside the region by maintaining their full preparedness and boosting their combat capabilities," Supreme Leader's Advisor for Military Affairs Major General Seyed Yahya Rahim Safavi said on Tuesday.
Meantime, he downplayed the possibility of a US or Israeli attack on Iran, saying, "Americans and the Zionists are not in proper conditions to launch a military attack against Iran."
Yet, the former commander of the Islamic Revolution Guards Corps (IRGC) cautioned that the country should not underestimate its enemies.
The remarks by Maj. Gen. Safavi came days after Supreme Leader of the Islamic Revolution Ayatollah Seyed Ali Khamenei warned the US against the grave consequences of any military aggression against Iran, stressing that Tehran's response to such an attack will not be limited to Washington's interests in the region.
"Americans' resort to a military attack is a remote possibility, but if so, Iranians' counterattack will not be merely regional, but will cover a vaster scene," Ayatollah Khamenei said here in Tehran on Wednesday.
Both Israel and the United States have always stressed possibility of military aggression against Iran to deter the country's progress in the field of nuclear technology.
Iran has warned that in case of an attack by either the US or Israel, it will target 32 American bases in the Middle East and close the strategic Strait of Hormoz.
Iran has warned that it would target Israel and its worldwide interests in case it comes under attack by the Tel Aviv.
US military leaders have also warned that strikes could be catastrophic to US national security interests and could engulf the Middle-East in a "calamitous" regional war.
Chairman of the US Joint Chiefs of Staff Admiral Michael Mullen warned in Tel Aviv recently of the unexpected consequences of an Israeli attack on Iran, just as he did during the days of the (George W) Bush administration.