Asia-Pacific
Pakistan
Leader:""We should all feel responsible against the bullying of the big powers and the imposition [of their will] and resist against them,"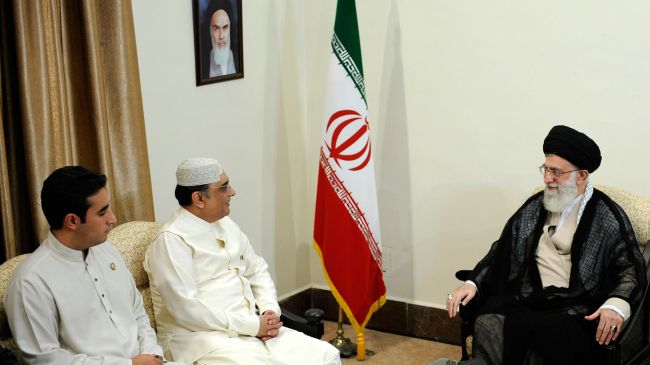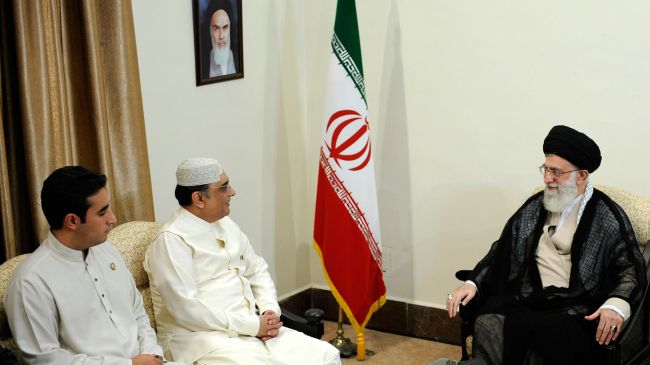 The Leader of Islamic Ummah and Oppressed People Imam Sayyed Ali Khamenei has stressed the importance of strengthening convergence between Muslim countries and making use of the capacity of the Non-Aligned Movement (NAM) to tackle terrorism.
"We should all feel responsible against the bullying of the big powers and the imposition [of their will] and resist against them," Leader Imam Khamenei said in a Friday meeting with Pakistani President Asif Ali Zardari on the sidelines of the 16th NAM Summit in Tehran.
The Leader described terrorism as a "disturbing creature imposed by the West on regional nations" and added that the US and Western powers create insecurity and corruption wherever they set foot in.
Zardari, for his part, said the Iranian and Pakistani nations enjoy deep-rooted ties and added that Islamabad completely believes in Ayatollah Khamenei's wise ideas about unity and resistance.
The Pakistani president noted that the successful 16th NAM Summit in Tehran showed the world 'how they should settle their problems.'
In a separate meeting with Sri Lankan President Mahinda Rajapaksa, the Leader urged unity among friendly states to strengthen their position, enhance their power, and advance their national interests.
Ayatollah Khamenei pointed to the hegemonic powers' media and political propaganda and stated that the experiences of Iran and Sri Lanka proved that it is possible to resist against colonialism and domineering powers.
The Leader of Islamic Ummah and Oppressed People Imam Sayyed Ali Khamenei hailed Sri Lanka's positive measures to support the Palestinian people and respect the rights of Muslims in Sri Lanka.
Rajapaksa, for his part, pointed to Sri Lanka's efforts to fight terrorism and defend the rights of the country's Muslims and expressed confidence that his country would be able to resolve problems in cooperation with Iran.