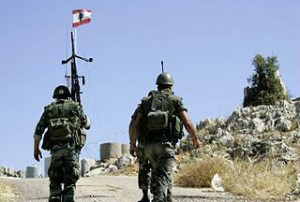 Israel media continued to circulate news about a possible new war with Lebanon. On Wednesday, Haaretz pointed Thursday that Israeli PM Benjamin Netanyahu was devising a scheme to wage war on Lebanon, Iran and Syria in the coming spring. And on Friday, Amos Harel, Haaretz's military correspondent related the coming Israeli war on Lebanon to a broader regional war that reaches Tehran. Harel said that the situation on the border with Lebanon was complicated; on the one hand there is Hezbollah's missile arsenal but on the other hand there is no Hezbollah activity against Israel on the border.
Meanwhile Lebanon's army chief, Jean Qahwaji, called on soldiers to be on high alert and to prepare defenses along the border for a possible Israeli attack.
In a statement published in honor of Lebanon's Independence Day, Qahwaji said soldiers should prepare "to handle what the Israeli enemy is scheming against the homeland, and to continue the battle against its violations – in the air, water, and land – with all the tools at our disposal".
Israeli occupation forces Chief of Staff Gabi Ashkenazi recently warned the Knesset that Hezbollah is currently armed with thousands of missiles, some of which could reach Dimona, south of the occupied territories.
"Some of them have a range of 300 km and some of them have a range of up to 325 km," Ashkenazi said, adding that the missiles were ready for use.
"There is a paradox – one hand there is calm, but when you peek over the fence you can see armament and empowerment. If Hezbollah carries out a retaliatory attack for (Imad) Mugniyah it will force Israel to respond and this will lead to deterioration," he said.
"Lebanon will continue to work to free the land that is still under Israeli occupation including the Shaba Farms and part of the village of Rajar," Qahwaji said.
The Army Chief urged the military to "make the utmost possible to reassure the citizens to their lives and livelihoods and continue in pursuit of terrorists, criminals and all those who undermine the country's security."
"You are also called to prohibit the spies from tampering with the country's stability from time to time," he said.
A Lebanese military court last week sentenced to death a man charged with spying for Israel and arrested another individual suspected of the same charge.
Last spring, Lebanon arrested close to 20 members of six espionage cells suspected of transmitting intelligence information to Israel.
Lebanese sources attributed last weeks arrests to improved cooperation between Lebanon's many security agencies, saying that with the help of better-trained personnel and access to more sophisticated equipment, the Internal Security Forces have been intensifying their efforts to uncover espionage networks as part of an attempt to develop a pan-Lebanese image.
"You are also called to strengthen your efforts in order to track terrorists, criminals and perpetrators regardless of their affiliations. In this regard, you have achieved stunning exploits in this field during the last couple of months through efforts which were certified by local and international sides."
"All the eyes are looking up to you, and the people is hailing you, therefore, do not hesitate to respond to the country's call and spare no efforts for the sake of our land and thus you shall be preserving the precious legacy of your martyrs and drawing bright pages in the book of independence." Qahwaji concluded his order of the day on the Independence Day.