Syria
Lebanese Politician Lambasts Arab Rulers' Oppressive Approach towards Syria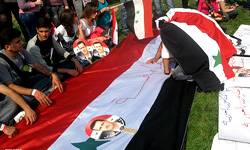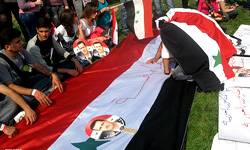 Head of the Arab Lebanese Struggle Movement Faisal Daoud condemned Arab rulers for their inimical measures against Damascus, saying that their actions and approach towards the Muslim state are even worse than those of the Zionist regime.
"Unfortunately, the rulers of certain Arab states have acted worse than the Zionists in this regard (against Syria)," Daoud said in a meeting with Iranian Ambassador to Beirut Qazanfar Roknabadi on Friday.
"Instead of reinvigorating unity against the Zionist regime, they (the Arab rulers) have stood against a country which has been an axis of resistance against the Zionist regime for several decades," he added.
The US, Saudi Arabia, Qatar and Turkey have been supporting terrorists and rebel groups in Syria and have practically brought a UN peace initiative into failure.
Syria has been experiencing unrest since March 2011 with organized attacks by well-armed gangs against Syrian police forces and border guards being reported across the country.
Hundreds of people, including members of the security forces, have been killed, when some protest rallies turned into armed clashes.
The government blames outlaws, saboteurs, and armed terrorist groups for the deaths, stressing that the unrest is being orchestrated from abroad.
In October 2011, calm was eventually restored in the Arab state after President Assad started a reform initiative in the country, but Israel, the US and its Arab allies are seeking hard to bring the country into chaos through any possible means. Tel Aviv, Washington and some Arab capitals have been staging various plots in the hope of increasing unrests in Syria.