Lebanon
Lebanese protest at soldier beheading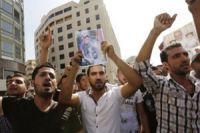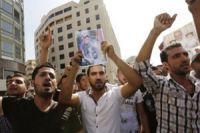 Lebanese protesters have voiced their anger after terrorists beheaded another army soldier.
According to Press TV, the angry protesters called on the government to take quick steps and help set the soldiers abducted by Takfiri terrorists free.
Lebanese officials, however, are calling on the people to control their anger and not allow the terrorists to ruin the stability of the country.
Tamam Salam, the Lebanese prime minister, said "We should know the sedition that terrorists seek could be taken advantage of by ignorant individuals… it is the way to ruin our national peace."
The protest comes after the emergence of photographs allegedly showing decapitation of a Lebanese soldier by the ISIL terrorists.
Last week, the army said that DNA tests confirmed that a beheaded corpse, handed over to military officials after negotiations, belonged to Sergeant Ali Sayid.
Sayid, 29, went missing after the Takfiris captured the border town of Arsal by launching an attack from inside Syria in August.