Iranian Parliament (Majlis) Speaker Ali Larijani says Lebanon has become "a model" for other nations due to its "resistance against world powers and the Zionist regime (Israel)."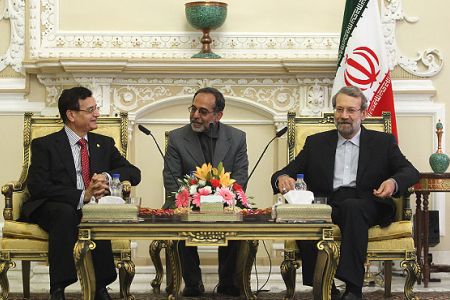 Larijani made the remark on Sunday during a meeting with Lebanese Foreign Minister Adnan Mansour in the Iranian capital, Tehran.
He added that the popular uprisings in the region have "put the Zionist regime in a difficult condition and that the measures taken by the regime are because of its rising concern about the developments."
The top Iranian parliamentarian also hailed the formation of a new government by Lebanese Prime Minister Najib Mikati, saying the move "was a great success for Lebanese political groups."
Larijani went on to say that the Islamic Republic is ready to help the Lebanese nation to resolve problems facing the country.
"We should use the opportunities for boosting parliamentary and economic cooperation between the two countries," he added.
Mansour, who was in Tehran to attend at the International Conference on Global Fight against Terrorism, praised Iran's stance regarding the developments of the Middle East and Lebanon.
"The new Lebanese government will make every effort to implement the agreements reached between the two countries in all fields," he said.
"The Lebanese government was formed through the will of the people and will not allow anybody to damage the national unity and solidarity of Lebanon," Mansour concluded.