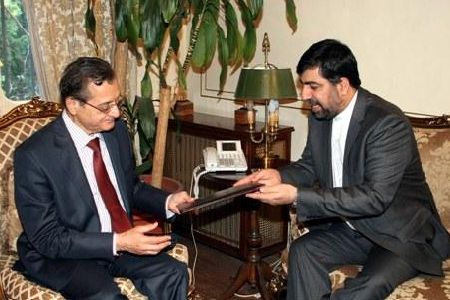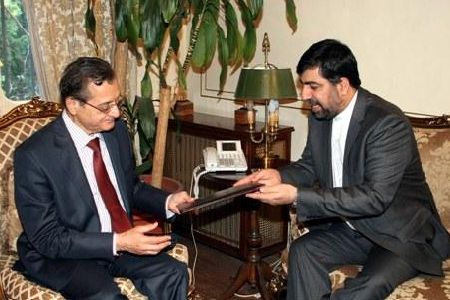 Lebanese Foreign Minister Adnan Mansour has lauded Iran's "valuable" stance on Damascus, reiterating the significance of establishing peace and tranquility in Syria.
Today, countries that sought to exert economic pressure on Syria have sustained damages and are being pressured by their own business firms, said Mansour in a meeting with Iran's Ambassador to Beirut Ghazanfar Roknabadi on Monday.
He expressed optimism that Syria would settle the ongoing crisis in the country and restore peace, coherence and unity.
Syria has been experiencing unrest since mid-March, with demonstrations being held both against and in favor of President Bashar al-Assad.
Damascus blames "outlaws, saboteurs and armed terrorist groups" for the unrest, saying it is being orchestrated from abroad.
In interviews with Israeli news outlets over the past few months, the Syrian opposition members have "clearly expressed their vision for the future of Syria and their interest in establishing relations with the Tel Aviv regime."
This comes while the Syrian people have repeatedly expressed solidarity with the government over the past weeks.
Roknabadi, for his part, relayed a written message from Iran's Foreign Minister Ali Akbar Salehi to the Lebanese minister with regard to the latest developments in the region.
He pointed to Iran's great success in various scientific and technological fields and said Tehran's downing of a US spy drone and the arrest of a CIA agent dealt a heavy blow to Washington and shattered its delusions of grandeur in the region and across the globe.
On December 4, the Iranian military's electronic warfare unit downed a US RQ-170 Sentinel stealth reconnaissance aircraft inside Iran with minimal damage.
The reconnaissance aircraft, designed and developed by the American company Lockheed Martin, had crossed into Iran's airspace over the border with neighboring Afghanistan.
On December 13, Iran's Intelligence Ministry announced that it has arrested a CIA intelligence agent of Iranian descent, foiling an intricate American plot to carry out further espionage activities in the Islamic Republic.