Lebanon
Iran
Middle East
Palestine
Lebanon Orthodox Church Bishop slams Zionism's anti-Iran moves
The archbishop of Lebanon's Jabal Amel Orthodox Church has slammed the Zionist lobby's measures against Iran, describing Zionism as an enemy.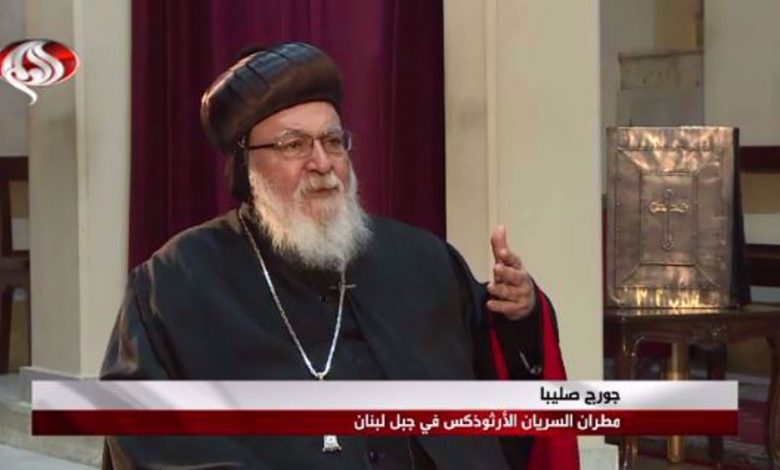 Speaking in an interview with Iran's Arabic-language Al Alam television news network, George Saliba said the Orthodox Church does not want to be hostile to others, but it considers Zionism an enemy.
He added that Eastern Christians are different from Western ones as the former do not tolerate the Zionists' mistreatment of Palestinians.
He hailed Iran's stance on the Palestinian issue and said, "Enmity between Zionism and the Arabs is rooted in our hearts and comes from our conscience and we laud the positions of the Islamic Republic on this issue."
Saliba also commended Iran's positions towards Arabs, including the closure of the Israeli regime's mission and the opening of the Palestinian embassy instead, which took place following the Islamic Revolution in Iran.
He pointed out that Iran's enemies are disseminating misinformation about the country in order to deceive people across the world.
The Bishop, however, emphasized that the Islamic Revolution in Iran intends to support the oppressed people, saying this is the reason it continues to support resistance movements in Palestine.
Elsewhere in his interview, Saliba praised Iran's role in defeating the Daesh Takfiri terrorist group, saying the savage and barbaric Daesh terrorists killed a large number of Christians.
He emphasized that since the victory of the Islamic Revolution in Iran 43 years ago, the country has always made efforts to bring prosperity to all nations.