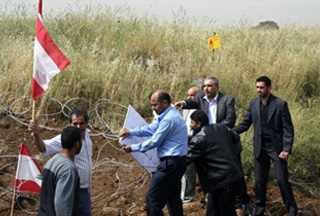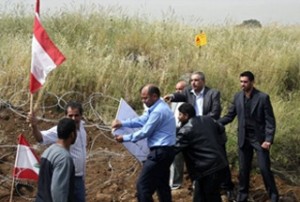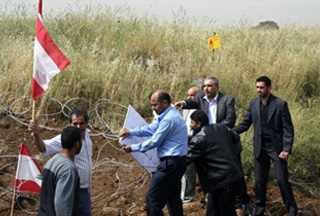 Angry protestors in southern Lebanon have reacted to Israel's violation of the country's territory, dismantling a newly installed Israeli fence near the Blue Line.
"The residents have taken down the barbed wire near the village of Abbasiya, which Lebanon considers part of its territory," AFP quoted Lebanese sources as saying on condition of anonymity.
Israeli troops set up the razor wire fence on Tuesday near the UN-drawn Lebanese-Israeli border, known as the Blue Line. The Lebanese army condemned the move as a violation of Lebanese territory.
Scores of Lebanese, led by lawmaker Qassem Hashem, marched on Friday into Abbasiya near the occupied area of Ghajar on the Lebanese border with Syria and Israel and tore down the fence.
"This is Lebanese land. We neither recognize Blue Lines nor Red Lines on the Ghajar-Abbasiya-Shebaa farms-Kfar Shoba hills axis," Hashem told a press conference in the area.
He vowed residents would repeat their action if Israel sets up barbed wires due to what he called the international community's failure to return the rights of the Lebanese people.
Two Israeli tanks and dozens of soldiers were immediately deployed at the border, prompting Lebanese troops to go on alert across the Blue Line.
Lebanon on Tuesday filed a complaint to the UN Security Council, accusing Israeli troops of crossing into its territory and dismantling a bulldozer at a construction site near the Hasbani River, close to Abbasiya.
However, UN peacekeeping forces stationed in southern Lebanon, known as UNIFIL, said they only had evidence of Israeli troops crossing the technical fence and not the Blue Line.
The United Nations demarcated the separation line after Tel Aviv withdrew its troops from southern Lebanon in 2000 after more than two decades of occupation.