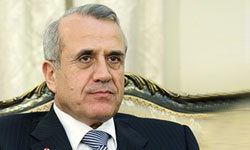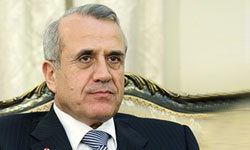 Lebanese President Michel Suleiman underlined the necessity for finding a political solution to the current crisis in Syria.
Speaking after a meeting with his Argentinean counterpart Cristina Fernandez de Kirchner in Buenos Aires on Thursday, Suleiman expressed strong opposition to military intervention in Syria.
Suleiman said it was important to allow Arab nations to achieve their goals, including reform, freedom and democracy, without violence or foreign military intrusion, Lebanon's Daily Star newspaper reported.
The Lebanese president added that it was also necessary to quickly resolve the Syrian conflict on the basis of dialogue and within the framework of the international community's efforts and the mission of UN-Arab League Special Envoy on Syria Lakhdar Brahimi.
The remarks by Suleiman came after Qatar called for Arab military intervention in Syria.
In latest anti-Syria remarks, the Emir of Qatar has called on Arab nations to form a political and military coalition to intervene in Syria, posing a direct challenge to UN efforts to resolve the conflict through negotiations.
Syria has been experiencing unrest since March 2011 with organized attacks by well-armed gangs against Syrian police forces and border guards being reported across the country.
In October 2011, calm was eventually restored in the Arab state after President Assad started a reform initiative in the country, but Israel, the US and its Arab allies are seeking hard to bring the country into chaos through any possible means. Tel Aviv, Washington and some Arab capitals have been staging various plots in the hope of stirring unrests in Syria once again.
The US and its western and regional allies have long sought to topple Bashar al-Assad and his ruling system. Media reports said that the Syrian rebels and terrorist groups have received significantly more and better weapons in recent weeks, a crime paid for by the Persian Gulf Arab states and coordinated by the United States.