Lebanon
Middle East
LEBANON: The Full Story behind Khalde Ambush and Allegations of 'Vendetta'
Since the flagrant shooting of Hezbollah member Ali Shebli took place on Saturday (July 31, 2021), anti-Resistance media outlets started to propagate that the attack is a 'vendetta', in a bid to justify the killing.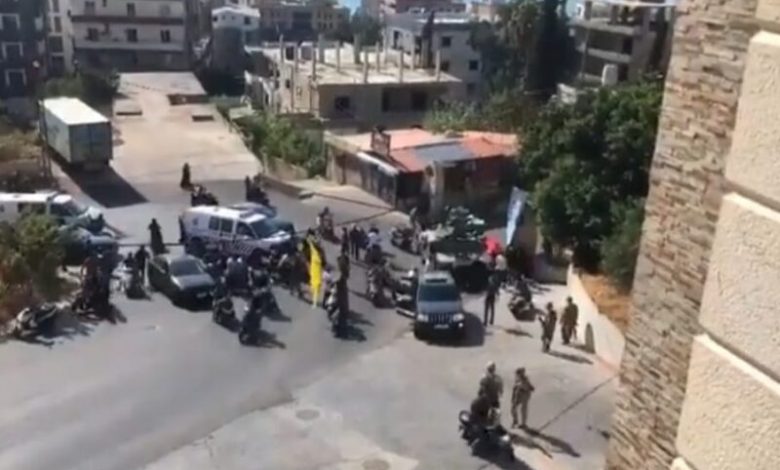 Media outlets reported that Shebli was killed during a wedding by Ahmad Zaher Ghosn, brother of a 15-year-old boy, Hasan Ghosn, who was killed in clashes in August 2020.
Back in August 2020, Hasan Ghosn was killed as his family, supporters of extremist cleric Omar Ghosn who belongs to an Arab clan in Khalde, attacked Shebli Center over the arrest of Omar Ghosn.
Omar Ghosn was arrested over his order to militants to attack the house of Ali Shebli and to remove an Ashura banner there. Shebli, at time, filed a complaint against Ghosn, calling on the Lebanese competent authorities to put an end to the extremist cleric's harassments over sectarian affiliations.
Hasan Ghosn, who repeatedly appeared in photos holding weapons, was among the militants who attacked Shebli Center, and was killed in the clashes. The 15-year-old boy was also known for his participation in the repeated attempts to block Beirut-Sidon international highway at Khalde, led by Omar Ghosn.
Going back to Saturday's shooting, Ahmad Ghosn, brother of Hasan, shot Shebli dead during the wedding of his sister in Al-Jiyeh area, some 30 kms south of Beirut. The horrible footage of Ghosn firing 5 bullets at Shebli in front of his family went viral on social media.
The Shebli family handed over Ahmad Ghosn (the shooter) to the Lebanese Army, and Hezbollah stressed that the Lebanese authorities are the side to which the Lebanese refer, calling on the Lebanese Army to hold the shooter accountable since Shebli was not responsible for the killing of Hasan Ghosn.
Shortly after the shooting, Ghosn family issued a statement in which it said that the brother of Hasan Ghosn "rebelled for his dignity and took justice into his own hands."
On Sunday, and despite assurances that Hezbollah was not seeking escalation, militants linked to Ghosn family ambushed the funeral procession of Shebli. As the procession arrived at Shebli's house in Khalde, it came under fire by the Ghosn-linked militants.
Shebli's brother-in-law was among three martyrs who were killed by sniper fire, indicating that the attack was a deliberate ambush.
Media outlets went ahead with its attempts to justify the acts of Ghosn-linked families, reporting that the shootings which took place in Khalde on Sunday were 'clashes linked to vendetta' and not a deliberate ambush.
In an interview with Al-Manar following the ambush on Sunday, Hezbollah MP Hasan Fadlalalh said that the attacks on Saturday and Sunday were acts by gangs, stressing that Arab clans don't carry out such terrorist attacks and that vendetta shootings can't by any mean take place in such a way.
Fadlallah voiced Hezbollah's keenness to preserve security and domestic peace, noting that the Lebanese Resistance party acted responsibly.
He urged the Lebanese Army to arrest the perpetrators of the ambush and hold them accountable, warning that the failure to do so leads to chaos and risks the national security.
Fadlallah in this context noted that Hezbollah is capable of acting and dealing with such gangs by himself, but affirmed keenness "to preserve the Lebanese State's prestige, since this is the responsibility of the security apparatuses."