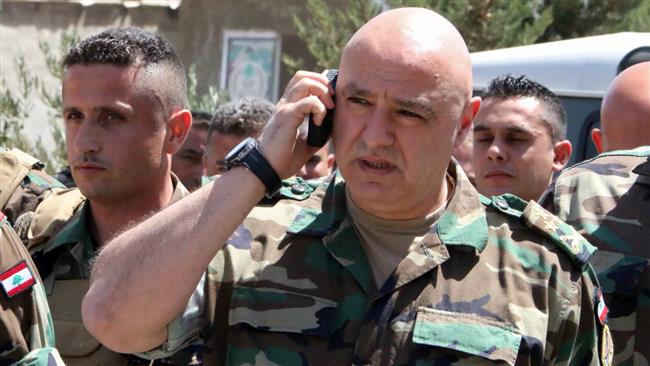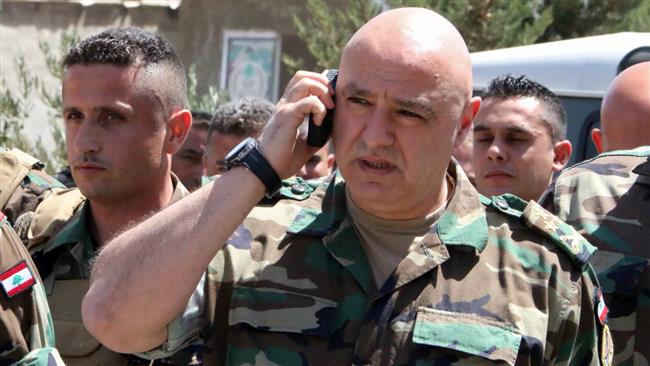 Lebanon's army chief has ordered soldiers to stand fully ready on the country's southern border to respond to the Israeli military's "threats and violations."
In a post on his Twitter account on Tuesday, Commander General Joseph Aoun called on Lebanese forces to continue targeting terrorists who commit crimes against the army and the nation.
"I urge you to be fully prepared at the southern border in order to confront the Israeli enemy's threats and violations."
The senior general also warned that the Israeli regime has "hostile intentions against Lebanon, its people, and army."
Elsewhere in his Tweet, Aoun demanded Lebanese army soldiers "to remain vigilant to ensure the implementation of Resolution 1701 in close coordination and cooperation with the UNIFIL in order to preserve stability" on the Lebanese southern frontier.
Israel launched two wars on Lebanon in 2000 and 2006, in both of which the Hezbollah resistance movement inflicted heavy losses on the regime's military.
United Nations Security Council Resolution 1701 ended the 2006 war. The resolution tasks peacekeepers with the United Nations Interim Force in Lebanon (UNIFIL), who are stationed along Lebanon's southern border with the occupied territories, with monitoring the cessation of hostilities there.
Israeli forces regularly violate Lebanon's sovereignty and target Lebanese patrol soldiers. Israeli officials have even threatened another war on Lebanon.
Back in September, Israel conducted its biggest military drill in almost two decades on the Lebanese border. An Israeli military source said the 10-day exercise was meant to simulate "scenarios we'll be facing in the next confrontation with Hezbollah."
The Israeli minister of military affairs Avigdor Lieberman has requested a boost in the regime's military budget, citing "a significant change in the security situation in the region."
Tens of thousands of Israeli air, sea and land personnel took part in the war game, which also included aircraft, boats, and submarines.
On Sunday, Arab League foreign ministers held an emergency meeting in Cairo, with the final statement accusing Hezbollah of "supporting terrorism and extremist groups in Arab countries with advanced weapons and ballistic missiles."
This is while Hezbollah is represented in the Lebanese parliament and in the national unity government formed last year.
Reacting to the Arab League statement, Lebanon's President Michel Aoun said his country reserved the right to resist and foil any Israeli aggression.
"Lebanon was able to face the Israeli aggression since 1978 until the 2006 war. It was able to liberate its land. Israeli threats are still ongoing; the Lebanese have the right to fight and thwart it with all available means," he tweeted.
Aoun further noted that Lebanon "cannot accept suggestions that Lebanon's government is a partner in acts of terrorism."
Earlier this month, Lebanon's Foreign Minister Gebran Bassil cautioned Israel against waging a war on his country, citing Beirut's confidence to secure victory in the battle.
Additionally, Hezbollah Secretary General Sayyed Hassan Nasrallah said Saudi Arabia has appealed to Israel to launch a military onslaught against Lebanon in the name of fighting Hezbollah, and is ready to spend billions of dollars to attain this objective.
The army chief's appeal to soldiers comes at a time when Lebanon is grappling with a political crisis caused by the shock resignation of Prime Minister Saad Hariri during visit to Saudi Arabia.
It is widely believed that Hariri, who led a coalition government including Hezbollah, was forced to step down by the regime in Riyadh over his refusal to take a confrontational approach against the resistance movement.