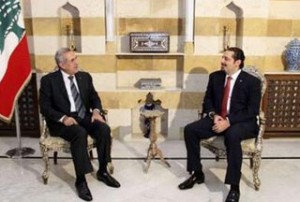 Lebanese Prime Minister-designate Saad Hariri is set to announce a national unity government after compromising on key cabinet posts.
A statement on the formation of the new government is expected within 48 hours. Hariri's coalition is however waiting for the opposition's official agreement on the new line-up before announcing the cabinet.
According to a senior opposition source, the opposition, including resistance movement Hezbollah, has finally agreed with the 15-10-5 formula.
"The Lebanese opposition has approved the proposed unity government", the source told Reuters after opposition leaders held a late-night meeting.
The formula would give Hariri's coalition 15 portfolios and 10 will go to the opposition. The remaining five will be chosen by President Michel Suleiman.
The agreement comes after months of negotiations on the formation of a unity government.
Hariri, whose March 14 Alliance won a parliamentary election in June, is expected to form a unity government to overcome the political deadlock in Lebanon.
The opposition will reportedly give its official agreement on the line-up on Saturday.