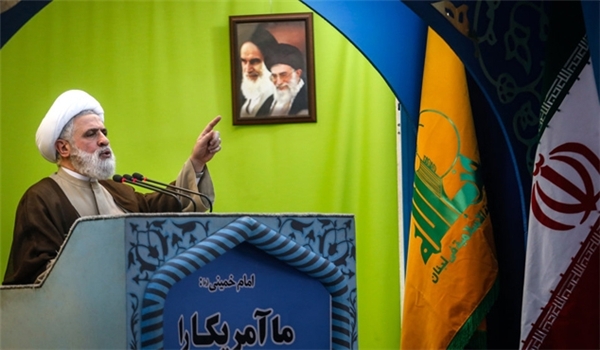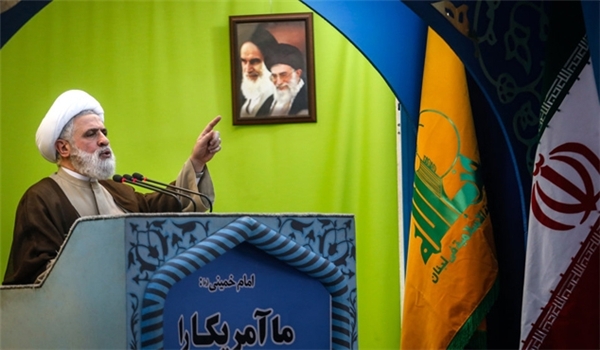 Hezbollah Deputy Secretary General Sheikh Naeem Qassem underlined the Lebanese resistance movement's continued fight against the Takfiri terrorists and the Tel Aviv regime.
Speaking in a pre-sermon speech at Tehran Friday prayers, Sheikh Qassem said, "Struggles against Takfiri terrorists and the Zionists will go on until they are defeated."
Sheikh Qassem pointed to Hezbollah's influence in the region, and said, "Israel would have created more problems for Lebanon if Hezbollah had not been there."
He said Hezbollah fights in Lebanon and Syria to defend those nations as well as Islam.
Elsewhere in his remarks, the cleric described Iran as a regional and global heavyweight, and also praised Iran's persistence in pursuing its nuclear rights.
The Hezbollah deputy chief described Iran as an influential country in the Middle East which, along with some other countries, stands up to reactionary entities in the region.
Sheikh Qassem said Iran is a role model for making an independent power and free decision making.
Sheikh Qassem emphasized it is in favor of Lebanon to follow three principles that Iran has always adhered to.
These principles, according to Qassem, are not following East or West, struggle to emancipate Palestine, and Islamic and national unity for resistance.
In February, Sheikh Qassem said Iran is the supporter of regional security and all regional countries need Iran to protect their borders, political systems and people.
"While the world had been divided into capitalist and communist blocs, the founder of the Islamic Republic of Iran Late Imam Khomeini declared that the revolution relies on neither of them," said the Hezbollah official.