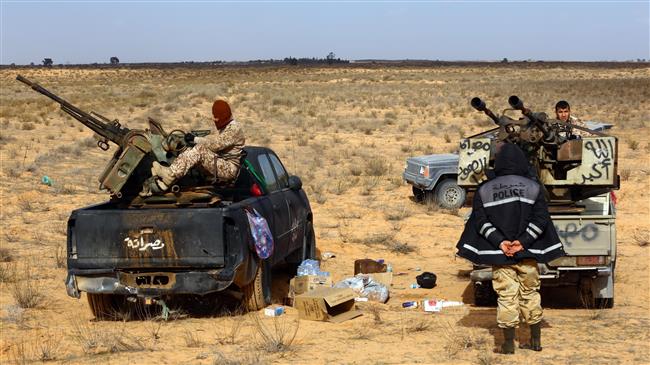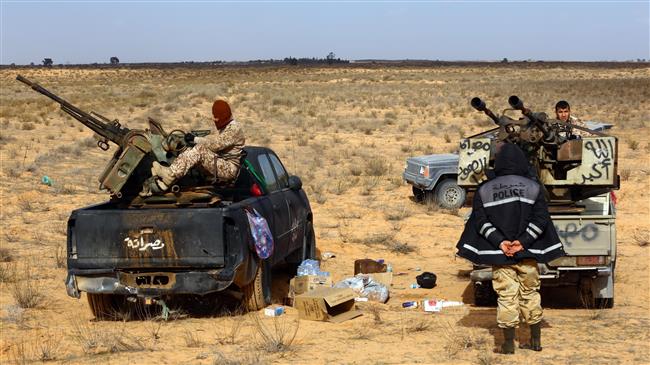 At least three soldiers have been killed in a bomb attack in the northeastern Libyan town of Ajdabiya.
Libyan military sources said on Tuesday that three Libyan soldiers lost their lives after an assailant rammed his explosives-laden car into a road checkpoint in Ajdabiya.
The attack also left four other soldiers wounded.
No group or individual has claimed responsibility for the deadly attack. However, similar bombings have been blamed on armed militant groups fighting against Libya's internationally-recognized government.
The attack came a day after Libya's Prime Minister Abdullah al-Thinni urged world leaders to provide his government with more help in the battle against militants or the country will turn into a safe haven for terrorists.
"The international community must cooperate with Libya to put an end to extremism and terrorism," al-Thinni said on Monday.
Libya's government and elected parliament moved to the eastern city of Tobruk after an armed group from the northwestern city of Misrata seized Tripoli and most government institutions in August 2014.
The new Tripoli rulers have set up a rival parliament and government not recognized by the international community.
Libya plunged into chaos following the 2011 uprising that toppled longtime dictator, Muammar Gaddafi. The ouster of Gaddafi gave rise to a patchwork of heavily-armed militias and deep political divisions.
The country has been witnessing numerous clashes between government forces and rival militia groups that refuse to lay down arms.
Battles among the rival militants, who had participated in the anti-Gaddafi uprising, are mainly over the control of oil facilities in eastern Libya.