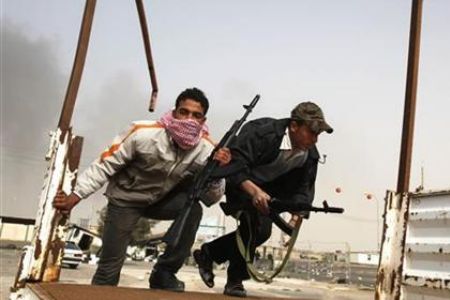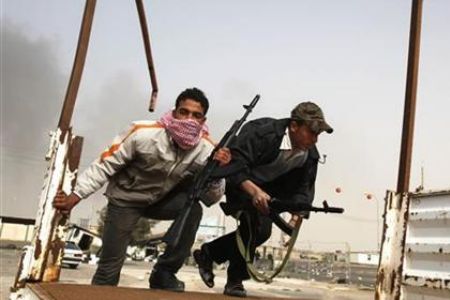 Hundreds of Libyans including, children and elderly men, have taken over a military air base in southern Benghazi, hoping to begin training to repel attacks by Libyan ruler Muammar Gaddafi's troops.
"We are receiving dozens of civilians who want to get trained and then enlisted. We are ready to defend Benghazi and its suburbs. We are here to help our brothers in Tripoli if they ask our support, but I'm sure that they can defend themselves," Colonel Maraey Logny said on Monday, Reuters reported.
Enlisted men at the air base in the city will receive intensive training sessions on using heavy cannons and anti-aircraft weapons.
"I'm calling all Libyan youth to be enlisted to confront this despotic dictator to defend our country, blood and lives," enlisted man Saleh Al-Abidy said.
Large swathes of youth have hurried to military bases all over the country to defend it and be ready to confront any attacks by troops under Libyan ruler.
"I came here to join the Libyan military, because we want to topple Muammar who kills the people." Libyan child Suleiman Meftah said.
A brutal crackdown by the Libyan regime on pro-democracy protesters that began nearly two weeks ago has left an estimated 2,000 people dead so far.
According to the United Nations High Commissioner for Refugees (UNHCR), nearly 100,000 people have fled the violence in crisis-hit Libya over the past week.
Gaddafi, who led a military coup against King Idris, came to power and established "the Great Socialist People's Libyan Arab Jamahiriya" in 1969.
The Libyan leader has ruled the North African country for nearly 42 years. He has seven sons and one daughter from two marriages.
Gaddafi and his family members have been holding a tight grip on the country's industries. Reports say they have hidden an estimated at $32.5 billion in secret foreign bank accounts.
The United States and other foreign governments discussed military options for dealing with Libya on Monday as beleaguered Gaddafi scoffed at the threat to his government from a spreading popular revolution.