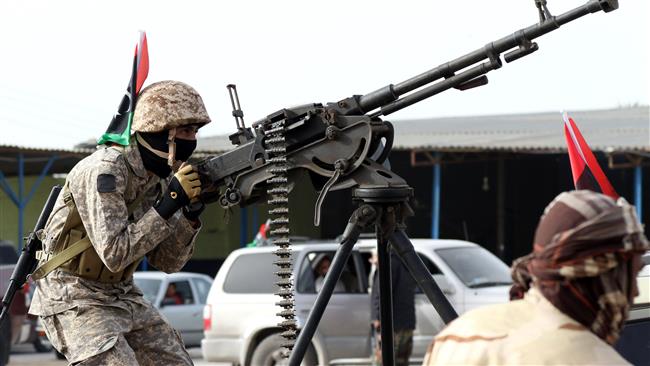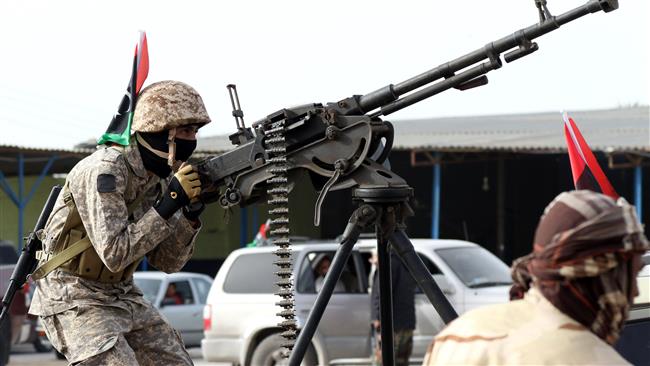 Libyan security forces have raided a hideout belonging to Daesh terrorists in the northwestern city of Sabratha, leaving seven suspected Takfiri militants dead.
Sabri Kshada, a spokesman for Sabratha's military council, said the attack took place about 20 kilometers (12 miles) south of the city on Wednesday.
"Our forces were confronted by the militants and there was an exchange of fire," Kshada said.
A Syrian militant and a female Tunisian terrorist with a three-year-old son were arrested during the gun battle while three more suspects managed to escape the scene, he added.
Local military brigades have been battling militants in Sabratha since they briefly overran the city center last week and beheaded over 10 local forces.
Earlier, the official reported that 46 members of local brigades had lost their lives in clashes with militants since last week. He further said a "great number" of terrorists were killed in the confrontation.
The situation in Sabratha is largely calm while state offices are set to reopen in the next few days, he added.
In another development on Wednesday, military forces in the northeastern city of Benghazi said four troops had been killed in clashes with militants near the University of Benghazi, formerly known as the Garyounis University.
Colonel Abdullah al-Shaafi said troops had advanced during fierce fighting southwest of the city center.
At least five people died and nine sustained injuries in the Benghazi fighting, an unnamed medical source said.
Libya has been grappling with violence and political uncertainty since the oil-rich country's former dictator Muammar Gaddafi was deposed in 2011. Armed groups and regional factions have been fighting for power ever since.
Since August 2014, when militias seized the capital Tripoli, Libya has had two parliaments and two governments with one, the General National Congress (GNC), run by the rebels in the capital, and the internationally-recognized administration in Tobruk. A UN-backed government of national unity is awaiting parliamentary approval.
Taking advantage of the political chaos, Daesh took control of Libya's northern port city of Sirte in June 2015, almost four months after it announced its presence in the city, and made it the first city to be ruled by the militant group outside of Iraq and Syria.
Since then, the group has been boosting its presence in the violence-wracked country, particularly after the Iraqi and Syrian army advances against militants.