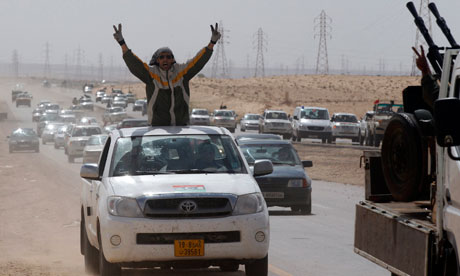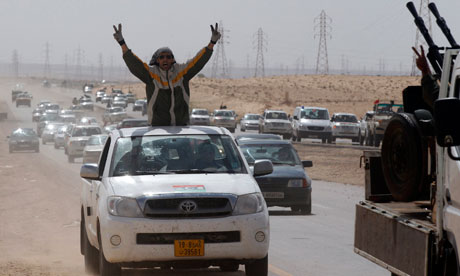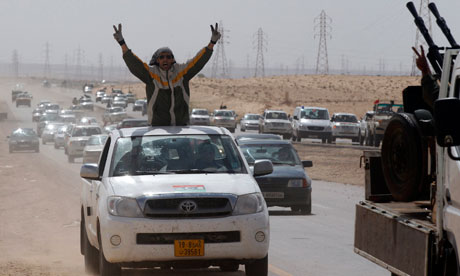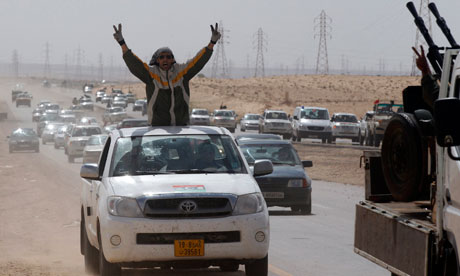 Libya's revolutionary forces have further advanced towards the capital Tripoli after gaining control of several areas previously held by forces loyal to Libya's embattled ruler Muammar Gaddafi.
The strategic city of Sirte, which is the hometown of the Libyan leader, has been a major battle ground in the North African country, a Press TV correspondent reported late Wednesday.
It is the second major town before Tripoli and many people say if Sirte falls, it will be the beginning of an end to Gaddafi, the report added.
Revolutionary forces also celebrated their victory in the town of Ajdabiya, where they are in control now.
Ajdabiya, a key oil town just 160 kilometers (100 miles) from the opposition stronghold of Benghazi, has been the scene of heavy bombardment in the past days.
Meanwhile, regime troops have launched deadly attacks on the western city of Misratah.
According to reports, Gaddafi loyalists have retaken the strategic towns of Ras Lanuf and Ben Jawad and are on their way towards Brega.
In Tripoli, explosions shook an eastern suburb of the Libyan capital as warplanes of the western coalition against Libya raided the city.
Libya says at least 114 people — many of them civilians — have been killed since US-led forces launched aerial and sea attacks on the North African country.
Libyan troops have also killed thousands of civilians since the revolution started against Colonel Gaddafi in mid-February.