Egypt
Live Updates: Millions to vote in final phase of Egypt's constitutional referendum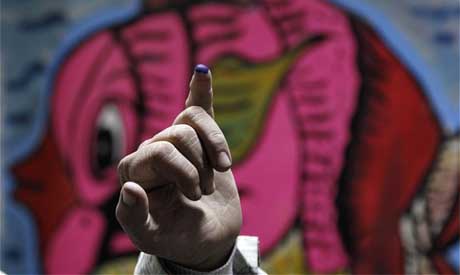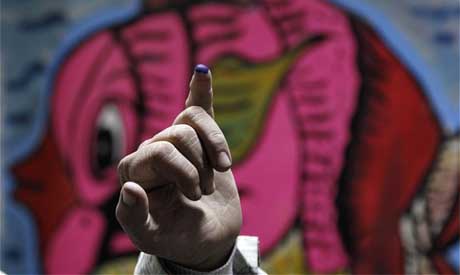 1:15 Egypt Prime Minister Hisham Qandil has voted in a polling station in Giza's middle-class district of Dokki.
According to Al-Ahram's Arabic-language website, he was keen to take his turn in the queue as the voters welcomed him in a friendly manner.
He had earlier been spotted touring several polling stations in Giza governorate, including the Orman Preparatory and Giza Secondary Schools.
11:05 Head of the Freedom Justice and Party Saad El-Katatni cast his ballot at Gil 2000 School in the Cairo suburb Six of October City.
According to same report on Al-Ahram's Arabic-language website, El-Katatni said he expects the constitution to be passed.
11:00 According to Ahram Online photographer, Mai Shaheen, photographers have been banned from entering the polling station in the Abu Bakr School in Dokki district, Giza governorate.
"They told us that we need permits, which did not happen during the first phase of the referendum," she said.
10:48 On the theme of electoral violations, former presidential candidate Amr Moussa's Egyptian Conference Party has released its first report concerning illegal activity at the polling stations.
The most prominent violations they highlighted are the presence of campaign posters inside the polling stations and delayed opening of several stations.
10:45 Strange goings-on have been reported in the well-heeled district of Sheikh Zayed in the Giza governorate.
10:30 Moving back to Giza, Ahram Online's Nada Hussein at the Om El-Abtal School in the working class district of Haram, reports rowdy scenes as voters complain about the long queues and lack of organisation at the overcrowded womens' polling station.
10:15 The Supreme Guide of the Muslim Brotherhood Mohamed Badie has now voted in his hometown of Beni Suef, Upper Egypt.
According to Al-Ahram Arabic language website, while queueing to cast his ballot Badie said that judges had already proven their loyalty to Egypt and it is "not right" to ask them to prove their identity.
Voters and election monitors have been checking IDs of members of the judiciary supervising polling stations as during the first phase of the referendum there were reports of people posing as fake judges.
10:00 Ahram Online's Eman Al-Hawary, based in the Upper Egyptian governorate Luxor, says the turnout of voters in the southern touristic city is "moderate" after nearly two hours of the official polling start.
"More than 20 polling stations in Luxor are still closed due to the delay of the judges, which seems to be commonplace in many other cities," she added.
09:55 Shifting North to the coastal governorate of Beheira, there is a high turnout across its 916 polling stations, says Al-Ahram's Arabic language website. However, 20 polling stations opened their doors later than scheduled.
09:45 Egyptian Prime Hisham Qandil has been spotted touring several polling stations in Giza governorate, including the Orman Preparatory and Giza Secondary Schools.
Qandil called on Egyptians to cast their ballots in the referendum, reports Al-Ahram's Arabic language-website, saying it is a national duty to participate, whether a voter opts for 'Yes' or 'No'.
He also commended personnel of the armed forces and police deployed to secure polling stations.
09:25 Back in Giza governorate, near the capital, Al-Ahram reports that hundreds of voters, both men and women, are already at the polling stations in the working class district of Imbaba. Women reportedly showed up as early as 7am to ensure they can cast their ballot.
Meanwhile in Menoufiya, despite a delay in opening certain polling stations, Ahram Online's Ekram Ibrahim also reports a high voter turnout, adding that so far the voting process appears to be going smoothly.
09:20 Moving back to Menoufiya, voting is off to a rocky start: 37 polling stations have yet to open their doors because the judges assigned to monitor the polls are late, reports Al-Ahram's Arabic-language news website.
09:15 Egypt's draft constitution is comparable to the "Mona Lisa", said Salafist Nour Party member Said Hamad in a Qena governorate party press conference Friday, adding that legal experts had likened the national charter to the world famous work of art due to its perfection.
In a bizarre footnote to the meeting another Nour Party member Mahmoud El Hefnawy, accused opposition leader Mohamed ElBaradei of wanting to build Buddhist temples in Egypt.
El-Hefnawy also added that the opposition camp was trying to "eliminate" the Islamic identity of Egypt as they are fighting over Article 2 and Article 219 of the constitution both pertaining to Islamic Sharia Law.
08:50 Moving north to Egypt's Nile Delta, Ahram Online's Ekram Ibrahim reports long queues in the Menoufiya governorate.
"I was afraid to go down and vote because sometimes Muslim Brotherhood members stand outside polling stations and push voters to vote as they want but I decided to come here and say no anyway," says Omnia Mahmoud, 18, student who is voting for the first time. Her family opted for Mubarak-era prime minister Ahmed Shafiq in the presidential elections.
"There is a high potential of a no vote in this governorate as the voting block chose Shafiq," reports Ibrahim, "to give you a bit of background on the governorate Menouiya has 2 million registered voters and the main industry is agriculture."
08:30 Polling stations are already very busy, reports Ahram Online journalist Adel Abdel-Latif in Giza governorate adjacent to Cairo.
At Om El-Moemenin girls school in the working class district of Omrania, the lines stretch over a kilometre you cannot see the end, Ahram Online's Abdel-Latif says adding it was the longest voter queue he had ever seen. This has been spotted at three different schools in the Giza district, even though polling stations only opened 45 minutes ago.
08:15 April 6 youth movement (Democratic Front) announced they have set up an operations room to document instances of electoral violations during the second stage of the referendum, and will publise
The Socialist Popular Alliance are also running an electoral violations centre, with a reported 600 observers at the polling stations keeping an eye on proceedings. They say they will publish regular reports of their findings as the day continues.
This comes after a number of prominent human rights groups called for a re-run of the first phase of Egypt's constitutional referendum due to thousands of reported violations.
These include unsupervised polling stations, "fake" judges overseeing the voting, Freedom and Justice Party members being allowed into polling stations to encourage people to vote 'yes', ballot box stuffing and pre-stamped ballot papers.
08:00 Good morning, we open our live coverage of the final phase of Egypt's constitutional referendum. Polling stations across 17 governorates are opening their doors to the estimated 25.5 million voters who will vote today. For more analysis on the expected outcome of today's polls read this
Millions of Egyptians across 17 governorates will vote in the second and final phase of the country's constitutional referendum Saturday against the backdrop of further violence as fierce clashes broke out the day before between rival protest groups in Alexandria, leaving dozens injured.
Street battles began in Egypt's second city when groups against the draft national charter clashed with the thousands who had gathered at Qaed Ibrahim Mosque in support of the referendum and Sharia Law.
Alexandria voted in the first round of the referendum, 17 governorates will vote Saturday including Port Said, Suez, Ismailia, Qalioubiya, Menoufiya, Damietta, Kafr El-Sheikh, Beheira, Giza, Fayoum, Beni Suef, Minya, Luxor, Qena, Marsa Matruh, the Red Sea and the New Valley.
Following the results of the first round which saw 57 per cent vote in favour of the draft constitution, many analysts believe the second phase will also be a "yes".
Out of the 17 voting, the majority of them are rural areas, with Muslim Brotherhood maintaining a sizeable support base in agricultural governorates such as Beheira, Kafr El-Sheikh, Damietta, Minya, Beni Suef and Fayoum.
Only three of the governorates heading to the polling stations Saturday voted overwhelmingly against President Mohamed Morsi in the presidential elections.
The first stage was marred by documented instances of electoral violations, including missing judges, "fake" judges supervising polling stations, pre-stamped ballot papers, deliberate delays at polling stations and ballot box stuffing, leading civil society groups and the opposition coalition National Salvation Front to call for a re-run.
The Cairo Administrative Court is currently investigating a legal complaint that the referendum is void as it was held across two phases, a week apart.
The issue of judicial supervision also continues to be a point of contention. The Judges' Club, which boycotted the first stage, will not participate in the second phase it confirmed, adding that more numbers have joined their ranks, meaning the lack of supervision will open the "doors for large-scale rigging."
Around 1,400 State Council judges and the Club of Administrative Prosecutors said they would also not monitor the polls.
Authorities maintain that the polling stations will be correctly supervised.
The Constituent Assembly, tasked with writing the constitution, held dialogue discussions about the contentious draft charter Friday, in a bid to come to an agreement on some of the more contentious articles. However the opposition forces boycotted the meeting saying it did not matter as the referendum was already underway.
There have been mass protests and violent clashes on the Egypt's streets ever since President Mohamed Morsi released a contentious Constitutional Declaration 22 November, immunising his own decrees and the constitution-drafting body. Egypt's national charter was then hastily drafted by an Islamist-dominated Constituent Assembly, passed by the president and put to referendum, speaking mass uproar.
With neither side backing down there are few signs that Egypt's deepening political crisis will be resolved.