Syria
London Enemies of Syria meeting fails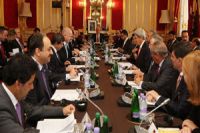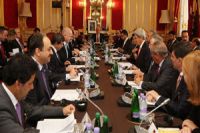 Media reports says the meeting of the so-called 'Friends of Syria' group and representatives of foreign-backed Syrian opposition in London has ended in failure with Saudi Arabia ditching the West and the Syria opposition embargoing peace talks.
The Saudi regime, which is well-known for pouring petrodollars into battlegrounds in Syria as the main supporter of Takfiris, shocked the meeting by announcing that it is ending its collaboration with the West over the issue, while the main Syrian opposition group poured cold water onto the whole idea of trying to make peace in Syria by declaring that it will not join any talks with the government of President Bashar al Assad.
Foreign Ministers of the so-called Friends of Syria group — the US, France, Britain, Saudi Arabia, Egypt, Germany, Italy, Jordan, Qatar, Turkey and the United Arab Emirates — were meeting representatives of the Syrian rebel opposition in London to try to hammer out a date for the long-awaited Geneva II peace conference first proposed by the US and Russia.
Meanwhile, Saudi Arabia'sForeign Minister, Prince Saud al-Faisal said his country would no longer cooperate with the West on the crisis in Syria, describing the US government's failure to launch an attack on the Midle Eastern country as an "obvious disappointment".