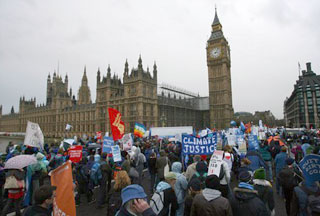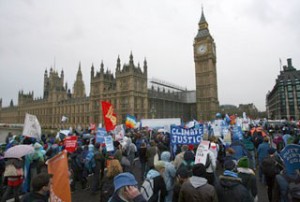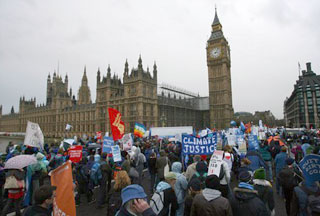 Around 20,000 people marched through London on Saturday to demand action on climate change ahead of a UN meeting in Copenhagen, police say.
The demonstration organizers called for a tough agreement on reducing emissions at the Copenhagen summit in a public call for action echoed in similar protests across Europe.
Police estimated that about 20,000 people attended the London march, although organizers put the number at over 50,000, with another 13,000 converging in Glasgow and other rallies in Belfast and Dublin, AFP reported.
"We are a normal family and this is our chance to say something. We feel powerless most of the time," said London protester Juliana Smith, 49.
Stop Climate Chaos, a coalition of non-governmental organizations, including Oxfam and Greenpeace, which organized the London rally, called for "bold leadership" from Britain at the Copenhagen summit.
Stop Climate Chaos Director Ashok Sinha said rich countries should cut their greenhouse gas emissions by at least 40 percent in the next decade, provide money to help poor countries, and urgently begin decarburizing their energy supply.