Economy
Iran
Latin America
Middle East
Long lines as Iranian fuel arrives at Venezuela's gasoline stations
Fuel shipped from Iran has begun arriving at Venezuela's gasoline stations as the fifth cargo of an Iranian flotilla approached the Caribbean Sea and was expected to reach Venezuelan waters Sunday.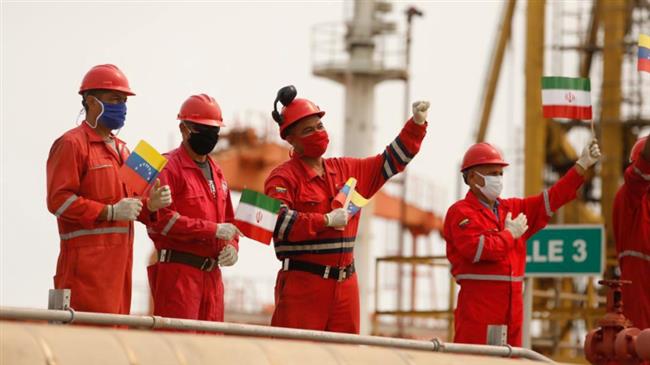 Venezuelans have spent hours or even days in line for gasoline in some areas of the country as fuel shortages intensified in the past two months.
Lines of drivers began forming at stations on Saturday in cities including Maracay, Valencia and Caracas in anticipation of the gasoline distribution.
As US sanctions imposed on Venezuelan state oil company PDVSA have limited the sources and types of products Venezuela can import, Caracas has turned to Iran for refining parts and fuel.
With Washington threatening foreign governments, seaports, shipping companies and insurers, Iran took the bold step of sending five fuel tankers to Venezuela this month.
The US navy sent warships to the Caribbean in an apparent bid to discourage Iran from sending the shipments, but the Islamic Republic's somber warning of a retaliation if its vessels were intercepted forced the United States to back down.
Four tankers have already reached their destinations and discharged their loads, with the fifth tanker, the Clavel, expected to arrive in the South American country later Sunday, according to Refinitiv Eikon.
Venezuela's military has escorted each tanker through its exclusive economic zone, with the navy posting images of its ships alongside the Iranian cargoes to show it remains unbowed by pressure.
"This is a war, my dear fellow countrymen who listen to me, a brutal war," Present Nicolas Maduro said Saturday, adding, the US was "persecuting any company that brings a drop of gasoline to Venezuela."
The oil industries of Iran and Venezuela are both under US sanctions. Iran is providing its fellow OPEC member up to 1.53 million barrels of gasoline and refining components to help ease an acute shortage, the result of the sanctions.
Meanwhile President Maduro announced Saturday new fuel prices as well as a supply mechanism to ensure fuel will be provided to all users amid an acute nationwide shortage.
As of Monday, the heavily-subsidized gasoline in Venezuela will be sold at 5,000 bolivars (around US$0.03) a liter. A monthly quota of 120 liters per vehicle will also be enforced.
On Friday, Reuters said the Trump administration has quietly warned foreign governments, seaports, shipping companies and insurers that they could face stiff US sanctions if they aid the Iranian tanker flotilla. 
Elliott Abrams, Washington's special representative on Venezuela, said that diplomatic warnings, known as demarches, had been sent privately to governments "around the world".
"I do not think that you will find ship owners and insurers and captains and crews willing to engage in these transactions in the future," he said.
The United States this month issued a global maritime advisory, giving guidance to the shipping industry on how to avoid sanctions related to Iran, North Korea and Syria.
However, the Washington Post said on Friday "Trump's sanctions are failing".
By showing that they were able to trade to mutual benefit, Iran and Venezuela "not only successfully circumvented US sanctions, they also scored public relations points in the process", the paper said.
The Post touched on the Trump administration's "maximum pressure" strategy against Iran and Venezuela, saying the two allies "show no signs of bending to external pressure".
Iran and Venezuela have been moving closer together for years. The relationship began to flourish after Venezuela hosted the 2006 OPEC summit, when then-Venezuelan President Hugo Chávez formed a personal tie to his Iranian counterpart, Mahmoud Ahmadinejad. Soon after, Chávez visited Ahmadinejad in Tehran.
Direct flights between Tehran and Caracas began. Iran invested in Venezuela, particularly in construction. The Islamic Republic even set up an auto manufacturing plant.