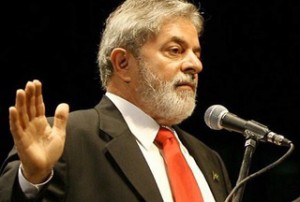 Brazilian President Luiz Inacio Lula da Silva has resisted Israeli pressure over an upcoming visit by Iranian President Mahmoud Ahmadinejad to his country.
"You do not build peace if you do not talk to all political and religious forces, those that want peace and those that oppose peace," DPA quoted Lula as saying at a joint press conference with Israeli President Shimon Peres in Brasilia.
"We need to talk more and to find more partners who want to help in peace-building in the Middle East. And we do not refuse to talk to anyone, as long as in that chat we can get a word, or at least a comma, that might help build peace," he said.
"You know that there will be no peace without political concessions," the Brazilian President said, addressing Peres directly.
Ahmadinejad is expected in Brazil on November 23.