Iran
Luxembourg's FM reaffirms Iran's right to enrich uranium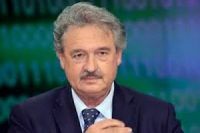 The Luxembourg-based daily Tageblatt reported Saturday that Luxembourg's Foreign Minister Jean Asselborn has stressed Tehran's right to enrich uranium ahead of his four-day visit to Iran.
According to IRNA, Asselborn is slated to pay an official visit to Iran on Sunday where he is to hold talks with the Iranian President Hassan Rohani, Majlis Speaker Ali Larijani and Foreign Minister Mohammad Javad Zarif.
Asselborn whose country is currently a non-permanent member of the UN Security Council, expressed hope that a settlement of the nuclear dispute between Iran and six world powers could be reached by July 20 when the six-month interim accord ends.
He added a final nuclear agreement could also boost trade ties between Iran and Luxembourg, pointing to the 'enormous economic potentials' of the Islamic Republic.