Europe
Macron gives in to protesters' demands, offers wage rise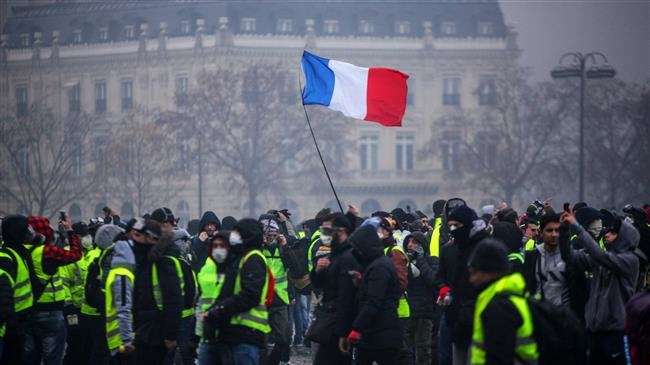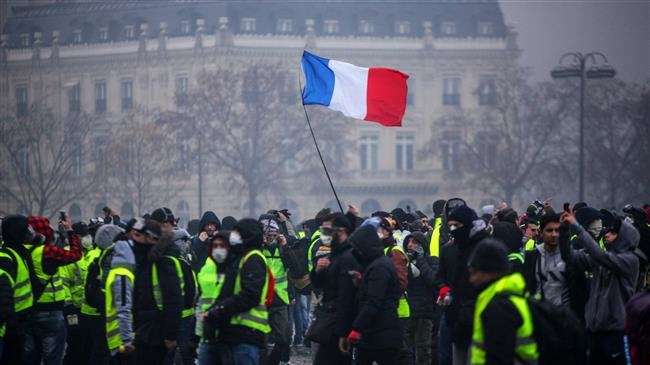 French president Emmanuel Macron on Monday tried to placate the so-called "yellow vest" protesters and control the ongoing crisis in France by introducing a series of concrete measures including wage rises and tax exemptions.
In response to the biggest political crisis of his 19-month presidency, the president tried to talk the protesters out of further action, promising a rise in the minimum wage and tax concessions.
In a long-awaited address on prime-time television, Macron unveiled a series of emergency measures aimed at improving the purchasing power of those who are among the worst off.
During the pre-recorded 13-minute speech, he decreed a "state of economic and social emergency" following four consecutive weeks of protests that have "mixed legitimate demands and a chain of unacceptable violence".
Macron said the details of his relief steps would be announced by Prime Minister Édouard Phillipe in Parliament on Tuesday, but that there would be a 100 euro ($114) supplement to workers earning the monthly minimum wage starting in January; that taxes on overtime pay would be eliminated and that retirees whose earnings are less than 2,000 euros ($2,270) a month would no longer be asked to pay a recent increase in social security taxes.
In a mea culpa, he said he had heard and understood protesters' anger and indignation, admitting that he had not been able to provide solutions quickly enough since his election.
"I may have given you the impression that this was not my concern, that I had other priorities. I take my share of responsibility. I know I have hurt some of you with my words," he said.
He said he understood the anger and "distress" of those struggling to make ends meet at the end of the month who felt ignored and economically squeezed, "It is as if they have been forgotten, erased. This is 40 years of malaise that has risen to the surface. It goes back a long way, but it is here now."
"No anger justifies attacking a police officer, a gendarme, or damaging a shop or public building. When violence is unleashed, freedom ends."
Macron said there would be greater public consultation on issues, but he would not go back on his wealth tax reforms. However, things would not "go back to normal … as if nothing has changed," he said.
France has been scene to four weekends of massive protests over the economic policies of Macron, who has been labeled as the "president of the rich."
The first "yellow vest" protest against the fuel tax hike was held on November 17. Spurred by rising fuel prices, the protests have grown into a broad movement against Macron's policies and governing style.
The French president's Monday comments were his second attempt to control the crisis in recent weeks. Last week, his government had cancelled planned fuel tax hikes, but that did not keep the yellow vests from pouring into streets this week.
The suspension of the fuel tax hike was among the key demands listed by the "yellow vest" leaders, in addition to a higher minimum wage and the restoration of a wealth tax on the rich, which was abolished last year.
More than 1,700 protesters have so far been detained and over 130 others sustained injuries in clashes across the country, according to the Interior Ministry.