North America
Mad Trump's health minister Price resigns amid scandal over his costly private flights by state jets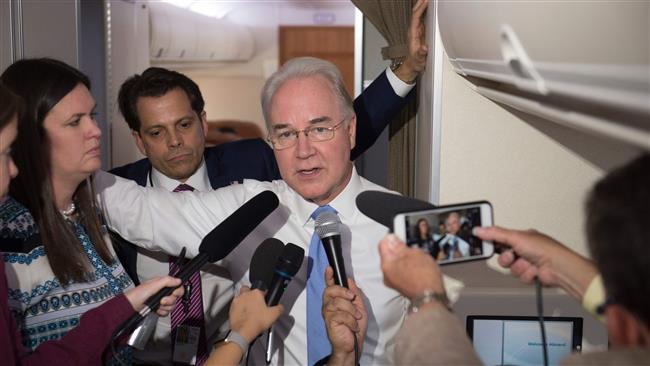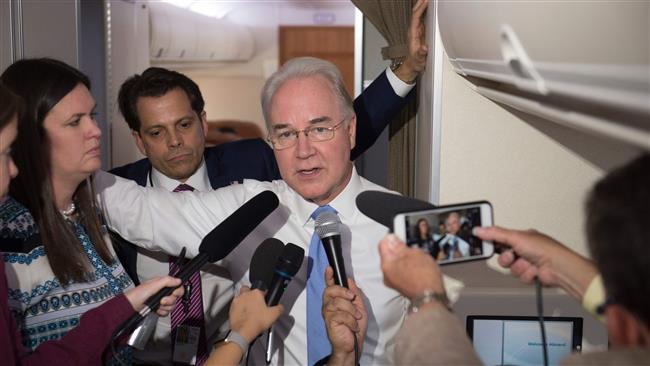 US Secretary of Health and Human Services Tom Price has been forced to resign amid a scandal over using costly private jets for his government travel.
"Price offered his resignation earlier today and the president accepted," White House press secretary Sarah Huckabee Sanders said in a statement on Friday.
"The President intends to designate Don J. Wright of Virginia to serve as Acting Secretary, effective at 11:59 pm on September 29, 2017," Sanders said.
This came almost an hour after President Donald Trump had told reporters that the secretary's fate would be decided later on in the day.
Price's use of private jets represents a big change from his two immediate predecessors, Sylvia Mathews Burwell and Kathleen Sebelius, who flew commercially in the continental United States.
A report by Politico earlier this month first revealed Price's use of charter jets for official business. Later, it published another article, saying that the secretary had traveled on charter flights at least 24 times since May.
In two instances, Price mixed official business with personal travel. In June, he traveled on a $17,760 round trip flight from Washington to Nashville and spent only 5½ hours there. He had two official visits and then had lunch with his son during the trip.
According to Politico, in one four-day stretch, his flights cost an estimated $60,000, and some of those flights came at times when dramatically cheaper commercial air travel would have been available. Charter plane operators estimated that the 24 flights would have cost $300,000.
Before joining the Trump administration, Price was criticized for buying shares in a biotechnology company at a discounted rate while sitting on a committee that could influence its stock price.
He eventually sold his stake in the company during the HHS confirmation process and made a profit of at least $150,000, according to The Washington Post.