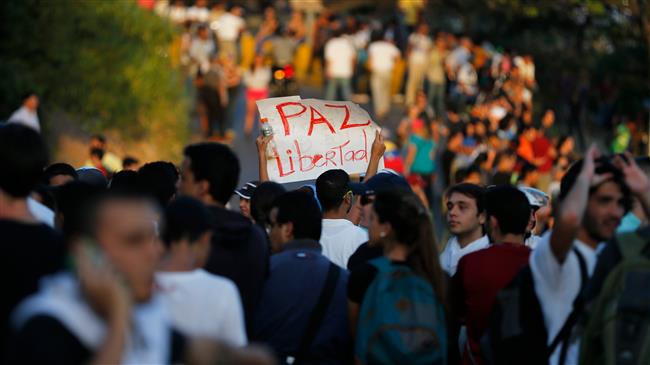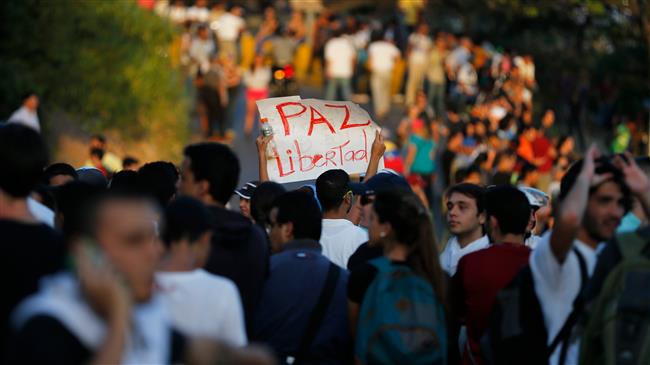 Venezuela's President Nicolas Maduro has called on all Venezuelans to get united against any foreign intervention in their country.
Maduro made the remark while addressing thousands of his supporters who had gathered in the capital, Caracas, on Tuesday to express support for their elected president amid calls 8by the opposition and the United States to overthrow his government by force.
"Let the drums of war go away! Let the threats of military intervention go away! And Venezuela! Say in one chorus, with a single voice: we want peace!" Maduro said. "We all want peace for Venezuela."
As Maduro's supporters were chanting against war and intervention, his opponents were gathering to show support for opposition figure Juan Guaido, who has declared himself "interim president" of Venezuela and welcomed US threats of potential military intervention in the Latin American country.
The administration of US President Donald Trump was first to recognize Guaido's self-declaration when it was made last month.
Addressing that crowd, Guido said he was "ordering" the Venezuelan military — which is loyal to Maduro — to allow what is claimed to be humanitarian aid into Venezuela.
"February 23 will be the day for the humanitarian aid to enter Venezuela, so from today we will have to get organized," he said, adding that he was sending a "direct order" to the army to allow the aid in.
"We'll keep inviting the soldiers of the country to join us. We'll keep inviting the humanitarian aid to enter, because it will enter Venezuela no matter what," he said.
He also called Maduro a "usurper" who has to "leave Venezuela."
Guaido was apparently referring to the "humanitarian aid" dispatched by the US. Caracas has banned the entry of that aid into the country, saying it is meant to advance plans for a coup designed by Washington.
Venezuela faces an economic crisis, including in the form of shortages of foodstuff and medicine. The government has acknowledged the shortages and has been trying to adequately resupply those items. On Monday, Caracas organized a "medical day" to distribute medicine among the people.
Trump 'warmongering' to take over Venezuela
In an exclusive interview with the BBC, Maduro called the Trump administration a "gang of extremists" who are "warmongering in order to take over Venezuela."
"If we have the most powerful empire in the world," he said, "the most powerful empire in the world, targeting all our accounts, freezing all our assets abroad, going after every ship that comes to Venezuela bringing products, of course that has brought considerable disruption," said the president, referring to the US, which has imposed sanctions on Venezuela.
"We have confronted it, and rest assured, we will overcome," Maduro said, accusing Washington of trying to manufacture a humanitarian crisis in Venezuela.
Following its recognition of Guaido as "interim president," Washington announced sanctions on Venezuela's oil industry to funnel income from the country's main oil exporter to the opposition.
It has also presented to the Security Council a draft resolution that would call for an early presidential election, a move that is widely expected to trigger strong opposition from Russia and China, which have rejected foreign interference in Venezuela.
Guaido seeks to 'stabilize relations' with Israel
The Israeli regime, itself not internationally recognized, has recognized Guaido as Venezuela's leader.
Earlier, on Monday, Guaido said he was working to restore ties with the Tel Aviv regime, after almost a decade.
"I am very happy to report that the process of stabilizing relations with Israel is at its height," he told Israeli newspaper Hayom.
The opposition figure said he would make a formal announcement on reestablishing ties and opening a new Venezuelan embassy in Israel "at the proper time."
"We really hope an ambassador from Israel will come to us," he added.
Venezuela's late president Hugo Chavez cut relations with Israel after Tel Aviv launched a military invasion against the Gaza Strip back in 2008-09.