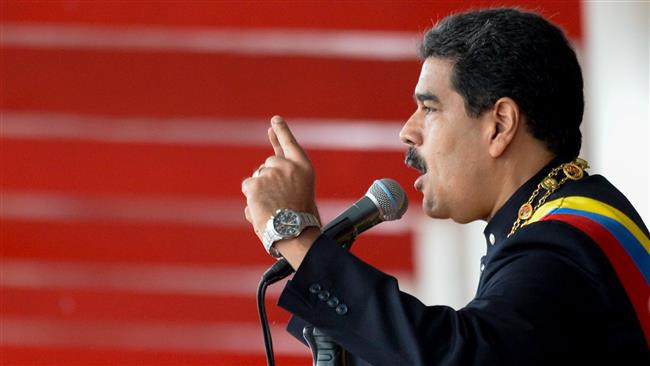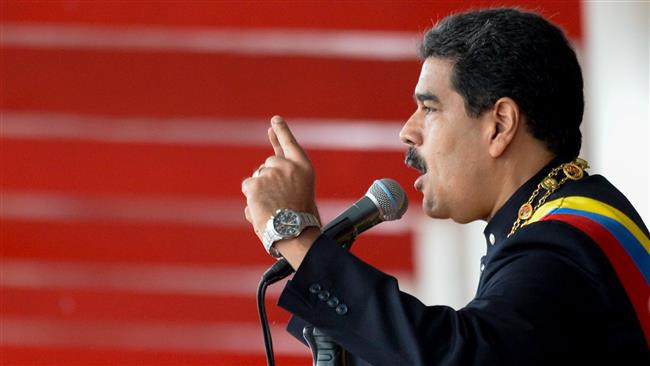 Venezuelan President Nicolas Maduro has denounced as "illegal" the new economic sanctions leveled by the United States against Venezuelan officials over a controversial government plan for rewriting the constitution.
"Who do these imperialists in the United States think they are? The government of the world?" Maduro said in a speech on Wednesday, after the White House imposed sanctions against 13 current and former Venezuelan officials.
He called the sanctions "illegal, insolent, and unprecedented."
Among the Venezuelan individuals targeted with the sanctions were army and police chiefs, the national director of elections, and a vice president for the state oil company PDVSA.
The US government warned that the sanctions were just a start, and the White House was readying tougher measures against anyone supporting Maduro.
The sanctions are supposed to be punishment for Maduro's plan to hold elections for a controversial new congress that will have the power to rewrite the constitution and override the current opposition-led legislature.
The opposition has been pressuring the Venezuelan president to revoke the decision to hold the vote on July 30. The opposition has boycotted the election and says convening the planned 545-seat Constituent Assembly would institutionalize autocracy in the country.
Maduro, however, has touted the planned rewriting of the constitution as necessary for resolving the widening political crisis in the country, saying that the reforms would also help the nation through the current economic crisis.
Meanwhile, the opposition has called for a two-day nationwide strike starting on Wednesday. It was not clear how many people had heeded the call.
Anti-government protesters on the streets have also been staging mass rallies and blocking roads with trash cans and makeshift barricades.
Thousands of Venezuelans have also crossed the border into neighboring Colombia in the run-up to the Sunday vote, during which more violence is expected.
Prosecutors said at least one protester was killed during a rally in the western state of Merida, the latest in a death toll that has now hit 104 in the four month of political unrest in the oil-rich country.
Maduro has repeatedly blamed the crisis on the United States, saying Washington has incited the opposition.