Latin America
Maduro proposes elections for dissolved opposition-held body
Venezuelan President Nicolas Maduro has proposed that elections be held for the country's National Assembly, an opposition-held legislature that continues to convene despite being dissolved in 2017.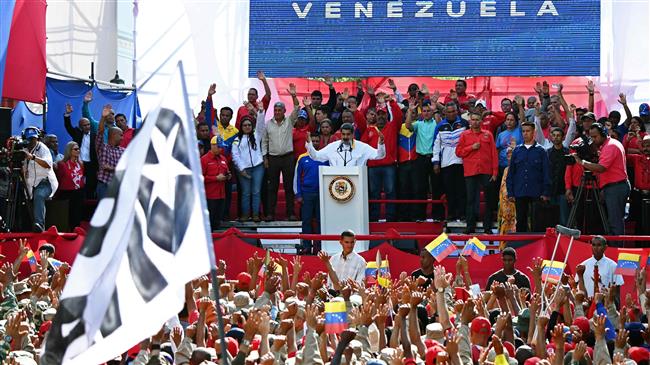 "Let's hold elections [for the National Assembly]. Let's [have] a peaceful solution, electoral, democratic, constitutional," Maduro said on Monday while addressing a pro-government rally in Venezuela's capital of Caracas.
He did not, however, set a specific date for the vote, which would have been held in late 2020 had it not been dissolved and stripped of its legislative powers in March 2017.
"We will legitimize the sole institution that has not been legitimized in the last five years," Maduro said before huge crowds of his supporters, who had earlier marched on the streets of Caracas, with many wearing red T-shirts and carrying "March for Victory" banners.
"We're going to measure ourselves electorally… we're going to bring forward elections of the National Assembly," he said.
The rally marked the first anniversary of his victory in a presidential election that was boycotted by the opposition.
The opposition won a majority in Venezuela's National Assembly in 2015. But it was declared in contempt of the Supreme Court in 2017 for swearing in three legislators whose elections had been ruled invalid by the court.
The National Assembly is headed by Juan Guaido, who threw Venezuela into crisis when he unilaterally declared himself the "interim president" of the country.
Last month, accompanied by a small number of renegade soldiers, Guaido attempted a coup against the Maduro administration. But the bid quickly failed, and many of the putschists have taken shelter at foreign embassies in Caracas.
Meanwhile, Venezuela's National Constituent Assembly has decided to continue operating until the end of 2020.
The body, which was set up in 2017 after the National Assembly was dissolved, was originally scheduled to run for two years.