Iran
Major water pipeline now links Persian Gulf to Yazd central Iran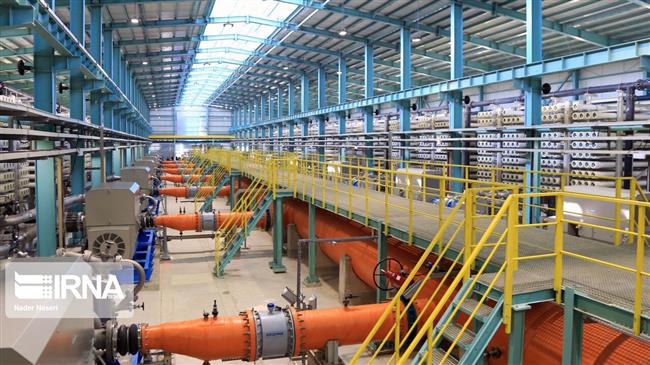 Iranian President Hassan Rouhani has opened two more sections of a pipeline carrying Persian Gulf water to arid regions deep into the Iranian Plateau.
Rouhani used a video conference call on Sunday to roll out the extensions on the pipeline which brings desalinated sea water to the central province of Yazd where Iran's sprawling iron mills and other key industries are located.
A first phase of the project had been opened in November when water from the Persian Gulf reached Sirjan in southeastern Kerman province.
Rouhani's website said in a report that the new 520-kilometer pipeline from Sirjan to Ardakan in Yazd has cost 70 trillion rials ($280 million) to build.
Water is now pumped from Sirjan to copper smelters in Sarcheshme, the hub of Iran's copper industry, and then to the Chadormalu mining complex, the largest iron ore producer in the Middle East located near Ardakan.
The massive project has been financed by private investment and loans from Iran's sovereign wealth fund.
Rouhani hailed the transfer of Persian Gulf water to central and eastern Iran as a historic achievement and a huge endeavor which would positively affect the social and economic development in Iran.
He said environmental standards have been observed in the project, adding that the brine, a byproduct of the desalination project, will be transferred to the Sea of Oman.
"This project has always been a dream for all authorities in the country," said the Iranian president as he vowed that Iran's share of taking water from the Persian Gulf for desalination purposes would increase massively in the upcoming years.
During the Sunday inauguration ceremony, Rouhani also ordered the start of construction works for other pipelines that will link Persian Gulf to Isfahan in center and Mashhad in northeastern Iran as well as a link between the Sea of Oman and Zahedan, a provincial capital located near the Afghan border.
His website said the three planned pipelines will stretch 3,280 kilometers from southern coasts deep into the Iranian Plateau. It said total investments for the three projects will amount to 1,210 trillion rials (nearly $4.9 billion).