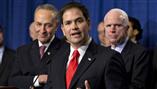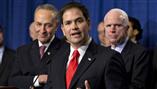 A majority of US senators submit to Israel's demands to please the Israel lobby and do not represent the interests of the United States, an American scholar says.
"It's really embarrassing that so many American senators are willing to carry water for Israel," said James Henry Fetzer, who is also an editor at Veterans Today and a retired professor in Madison, Wisconsin.
"They ought to simply declare themselves as senators from Israel because they don't represent the interest of the United States," Fetzer told Press TV on Monday.
He made the comments after US Republican Senator Marco Rubio called for additional sanctions on Iran, despite warnings from the Obama administration that they risked derailing the nuclear talks.
Speaking on CBS's "Face the Nation" program on Sunday, the hawkish lawmaker from Florida said that the ongoing nuclear negotiations with Iran "are really not going to bear fruit."
Fetzer said, "It's embarrassing that a United States senator is speaking out in the fashion of Marco Rubio because it displays a complete of ignorance of the issues that are under consideration."
Nuclear talks are underway between Iran and the P5+1 group — the US, Britain, China, France, Russia, and Germany aimed at putting an end to the 12-year-old dispute over Tehran's peaceful nuclear activities.
Republican lawmakers in Congress have expressed support for a legislation that would impose new sanctions against Iran if the negotiations fail by July 1, 2015.
US President Barack Obama has called on the new Republican-controlled Congress not to impose additional sanctions on Iran, warning that he would veto such a measure.