Asia-Pacific
Malaysian protesters slam 'irresponsible' US media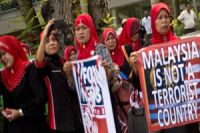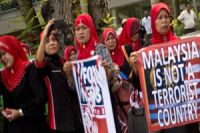 Malaysian activists have staged a rally to protest what they call unprofessional reporting by US news outlets on the missing Malaysia Airlines flight MH370.
According to the reports, the demonstration was held on Thursday outside the US Embassy in the Malaysian capital, Kuala Lumpur.
The protesters called on the United States to take action against CNN and Fox News for what they described as irresponsible coverage of the Malaysian Airlines aviation crisis.
They denounced the US broadcasters for launching a smear campaign against Malaysia by featuring its people as an extremist nation.
The protest comes while the search operation to find the missing plane is still underway.
On Thursday, Malaysian Prime Minister NajibRazak vowed that the country will not give up searching until the fate of Flight MH370 is known.
He said up to eight planes and nine ships will join the search area of about 223,000 square kilometers (86,000 square miles), some 1,680 kilometers (1,040 miles) west-north-west of Perth in Western Australia.