Asia-Pacific
Malaysian protesters urge PM to resign for second day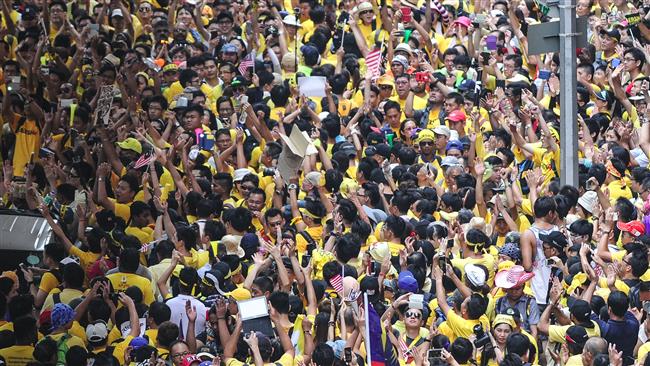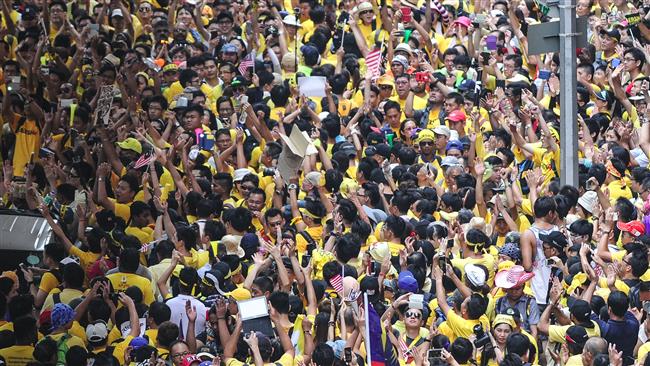 Thousands of Malaysians have gathered in central Kuala Lumpur for a second day, demanding the resignation of Prime Minister Najib Razak over a corruption scandal.
Crowds of yellow-clad Malaysians converged on the streets of the capital on Sunday a day after tens of thousands turned out for a similar rally there, calling for Najib's resignation as well as reforms in the electoral system, which critics say is biased.
Many of the protesters slept the night on the streets near Kuala Lumpur's Independence Square to take part in Sunday's demonstration.
"We are hoping to have as many people as yesterday to send the message to this government: they have been lying and stealing and bullying for far too long and the public won't take it anymore," said Simon Tam, a lawyer among the protesters.
Police estimated 29,000 people participated in Saturday's march, but the civil society movement, Bersih, which had organized the rally, put the number of participants at 200,000.
Former Malaysian premier, Mahathir Mohamad, also made a brief appearance in Saturday's gathering and supported the calls for his successor to quit.
Najib, however, criticized the demonstrations, which he said tarnish the country's image, stressing, "Those who wear this yellow attire [of Bersih movement] … they want to discredit our good name, scribble black coal on Malaysia's face to the outside world."
Similar protest rallies were also reported in the cities of Kuching and Kota Kinabalu despite a police ban on such gatherings.
A report published in The Wall Street Journal back in July revealed that Malaysian investigators had traced almost USD 700 million of deposits into Najib's personal bank accounts.
The revelation came during a probe into alleged mismanagement at 1Malaysia Development Berhad (1MDB), a government-owned strategic investment company.