Iraq
Maliki agrees to pay Kurdish employees' salary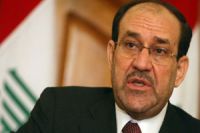 The Iraqi prime minister agreed with the request of the Patriotic Union of Kurdistan to pay the salary of the employees of the Iraqi Kurdistan.
Adel Murad, Secretary of the Central Council of the Patriotic Union of Kurdistan, in an interview with the Iraqi daily al-Masla, referring to the problems of the local office of Kurdistan region for paying the salary of its employees in spite of the oil revenues in the region, said that Premier Nuri al-Maliki has agreed with paying the salary of the Kurdistan region employees for April 2014.
Pointing to solving the problems of Kurdistan region through paying their salary by the central government in Baghdad, Adel Murad added that the inhabitants of Iraqi Kurdistan region are facing with economic problems despite billions of dollars of oil sale.
Earlier, Ehsan al-Awadi representative of the State of Law Coalition in the Iraqi parliament, pointing that the Kurdistan region in the country has earned 10 billion dollars from previous oil export, said these revenues are not within the framework of the central government's oil export and the local office of Kurdistan can pay its employees' salary with these moneys.