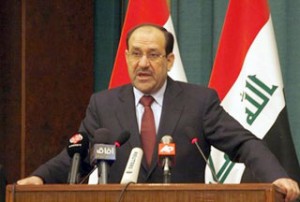 The Iraqi premier's Rule of Law alliance has filed an official complaint over what it calls massive vote rigging in the March general elections.
Prime Minister Nouri al-Maliki's coalition secure 89 out of 325 parliamentary seats in the March 7 vote, two seats shy of former Prime Minister Iyad Allawi's Iraqiya Party.
A spokesman for the Rule of Law said on Sunday that up to 750,000 votes have been manipulated through fraud and that the coalition was seeking a recount in five provinces or at least in Baghdad — the most populous of Iraq's 18 provinces which accounts for 68 seats, just over a fifth of parliament.
"We believe the amount of manipulation in the votes in these five provinces could reach 750,000 votes … this is a huge number and possibly could change enormously the elections results," coalition spokesman Hachim al-Hasani told reporters.
"This is why we presented this appeal and we hope that the judicial appeal panel will do its duty … and look into it seriously," he added.
He said most of the votes affected by fraud would otherwise have gone to the Rule of Law coalition.