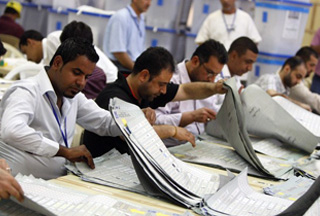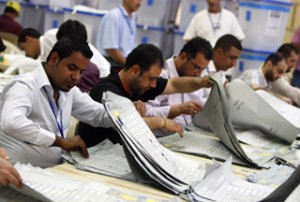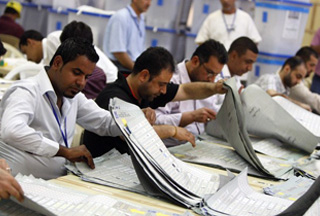 Prime Minister Nouri al-Maliki's State of Law coalition holds the lead in Iraq's legislative election, closely followed by rival Shias amid allegations of fraud from secularist Sunnis.
Partial results from Iraq's tight election race coming out on Friday indicated Maliki's State of Law coalition sets the pace with the powerful Iraqi National Alliance, a coalition of major Shia parties, on its heels with only 16 percent behind.
The initial results for five provinces have been released so far, leaving the race too early to call as figures have yet to be announced for 13 other provinces. This is while the result is really difficult to foresee in key areas such as Baghdad, where the city's 6-million strong population incorporate diverse ethnical and religious communities.
The parliamentary poll held amid highly tightened security on March 7 — the second such vote since the 2003invasion of the country by US-led forces — is viewed as a landmark test of democracy for the Iraqi government seven years after the ouster of former dictator Saddam Hussein.
The picture is, however, becoming increasingly more tainted by complaints of serious fraud from former Prime Minister Iyad Allawi's secularist alliance, the Iraqiya List, which swept a noticeable majority of votes in two Sunni majority provinces in the north.
But the Independent High Electoral Commission (IHEC) dismissed charges of serious fraud from Allawi's camp, including reports that ballots were discovered in the garbage and more than 200,000 soldiers' names were missing from voting lists.
"The process of counting and sorting ballots is going well, with the presence of observers from political parties and under international supervision," Reuters quoted Hamdiya al-Husseini, a top IHEC official, as saying.
Five days after the election was held in Iraq, UN officials acknowledged the counting is taking longer than expected, but defended IHEC officials who have been citing a complicated system set up to thwart fraud.
Adding to the confusion in the counting process are technical challenges the IHEC suffered regarding the computer system used to enter polling data.
The system was slowed or was taken offline intermittently for maintenance, UN officials said. IHEC officials have, however, assured the problem was fixed now and that more initial results from at least another three provinces would be published on Friday.
On Thursday, Husseini said the electoral commission had received some 1,000 complaints over the vote, without providing further detail.