Syria
Maliki: only dialogue and peaceful process will solve crisis in Syria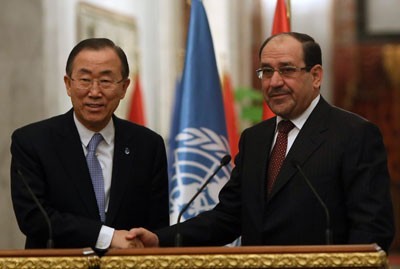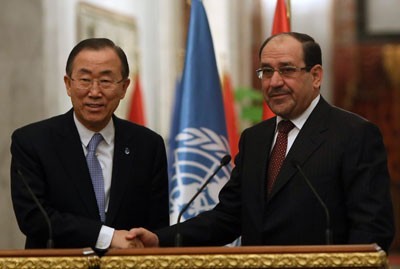 Iraqi Prime Minister, Nouri al-Maliki, stressed that the solution to the crisis in Syria will only be through dialogue and peaceful track and through the international conference on Syria "Geneva 2."
At a joint press conference with UN Secretary-General, Ban Ki-Moon, al-Maliki said, "Without Geneva 2, the crisis in Syria will expand and will lead to a great catastrophe not only on Syria but also on Iraq, Lebanon, Jordan and Turkey and the entire region and then on the world at large."
He warned of the terrorist al-Qaeda organization which has become a threat on Iraq, Syria and all regional countries and the world as well, adding that Iraq will call in the coming days for holding an international conference to combat terrorism.
Al-Maliki noted that Iraq has decided from the beginning of the crisis in Syria not to be a part of the armed conflict.
The UN Secretary-General stressed that the international conference on Syria will be held as scheduled on January 22nd, emphasizing the necessity of inviting Iran to participate in the conference.
"Foreign ministers of the invited countries will take part in Geneva 2 and there will be discussions and then negotiations between the Syrian government and opposition," Ki-Moon said.
He pointed out that the goal of the conference is implementing the Geneva Communiqué, adding that Iran is an important country and its presence in the conference is important.